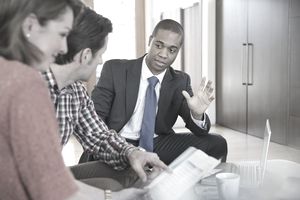 For those of you who work with a financial adviser, bringing up bitcoin as an investment option will probably bring chuckles and groans from most advisers. For those who want to view bitcoin beyond its function as a currency and want to utilize it as a speculative investment, there are few direct investment product options, but they do exist and as such, it can be a suitable discussion with your adviser.
The reality is also that many public companies, including many financial and banking firms, are considering bitcoin and blockchain technologies. How these technologies may impact the bottom lines of these companies are important to consider for investors and clients who hold these stocks.
Why Advisers Should Care About Bitcoin
David Berger of the Digital Currency Council believes that financial advisers need to understand the workings and the potential impact that bitcoin and blockchain technologies can have on existing and start-up businesses, and ultimately advisers need to be able to discuss these points with their clients.
"Advisers need to understand the technological underpinnings of Bitcoin, as well as how to hold, securely store, and utilize it," Berger says. "Advisers also need to understand the digital-currency ecosystem and the ways to evaluate risk and invest wisely within that ecosystem.
They should familiarize themselves with the financial and tax implications, as well as the legal and regulatory issues—all of which are developing daily."
Advice From a Top Adviser
We wanted to speak directly to a Financial Adviser about bitcoin, so we figured that we'd go right to the top. We spoke with Ric Edelman, who has been named the #1 Independent Financial Adviser in the nation for three times by Barron's Magazine.
Edelman provided a surprising perspective on bitcoin. He feels that investors and advisers need to pay attention to bitcoin. He doesn't recommend it as an investment but believes that CFTC's declaration that it is a commodity "is a good thing for bitcoin."
"It's important that investors stay aware and knowledgeable about bitcoin," Edelman advises. However, what he's most excited about is the potential for the blockchain, which is the infrastructure that all bitcoin transactions are recorded on. Edelman sees the blockchain as one of the major technologies of the future and feels that there may be investment opportunities down the road as it grows.
Is It All Just About Bitcoin?
These opportunities are not just with blockchain focused startups as Edelman feels that investors should pay attention to those established companies that harness the power of the blockchain in their own existing businesses. "We're seeing existing banks and other businesses who are pursuing opportunities with blockchain technology for their own business," Edelman says. "These companies could benefit from advancements made in this technology."
Although Edelman has achieved accolades for his adviser practice, it's obvious that he's not the typical adviser who finds himself in the "comfort zone" of products that they're most familiar with.
His keen focus on trends led him to get involved with the development of an ETF (exchange-traded fund) that seeks out companies that are using the latest technologies, such as blockchain technology. This is what led him to ask BlackRock, the world's largest money manager to create an ETF focused on this investment theme. It did, launching the iShares Exponential Technologies ETF (symbol: XT) in March 2015. Edelman's firm now routinely includes XT in its clients' portfolios. He notes that neither he nor his firm has any financial stake in the ETF; he simply wanted the fund created for use by his clients.
"It's important that investors stay educated on bitcoin and the blockchain technologies in order to find investment opportunities," he says.
As the opportunity for bitcoin moves from being not only a form of payment, but an investment opportunity for investors, it's going to become more vital for financial professionals to pay attention to bitcoin and blockchain technologies in order to advise their clients accordingly.