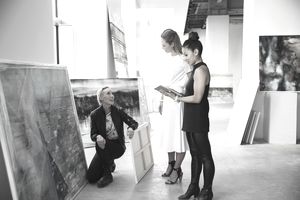 Art curators have an eye and passion for staging artwork in a way that creates interest in an art exhibition.
To be an art curator requires multi-tasking as the job entails being responsible for a museum's collection, selecting art to be displayed in a museum, organizing art exhibitions in galleries or public spaces, researching artists, plus writing catalog essays.
What it Takes to Be an Art Curator
To be successful as an art curator, you should be:
Organized: Besides working with art and artists, increasingly curators need to work on administrative tasks, such as figuring out exhibition budgets, fundraising, and grant writing.
Passionate: The most successful curators are passionate about art and the art they exhibit.
Knowledgeable: Curators need to be knowledgeable in art and culture, so they may have an educational background in art history and philosophy.
Adept at Multi-Tasking: Today's art curators need to multi-task, so being skilled in business, marketing, public relations, and fundraising is absolutely necessary. Art curators also need to be skilled communicators as they are often the mediators between the museum, artist, and public.
Proficient at Writing: Art curators also need good composition skills as they write the exhibition catalog essays, promotional materials, and grant applications.
Getting Started as an Art Curator
Have you thought about organizing an art exhibition, but you're not sure what tasks are involved?
Here are 10 Easy Steps to Curate an Art Exhibition. In this comprehensive tutorial, Fine Art guides you through the many details and factors involved in turning your art exhibition into a success.
Of course, you need money to put on an art exhibit. So, you should read a quick guide on how to apply for arts grants and art funding.
The Difference Between an Assistant Curator and a Chief Curator
Art museum curators work with art collections and exhibitions in an art museum.
Art museums use a hierarchical system and typically have one chief curator and several assistant curators.
The chief curator oversees programs, exhibitions, and the museum's collection, plus manage the staff of assistants.
Assistant curators function more like administrative assistants and help the chief curator fulfill the art museum's mission. Working as an assistant curator is one in-depth way to learn about art museums.
More on Art Curating
What Type of Skills Are Needed to Be a Curator? Being knowledgeable in art history and possessing exceptional organizational skills provide good starts to a career, but you'll need other talents as well. This article details the typical requirements for becoming a curator. 
What Is the Difference between an Art Museum Curator and an Independent Curator? You don't have to work solely for a single institution to enjoy a rewarding career in this field.