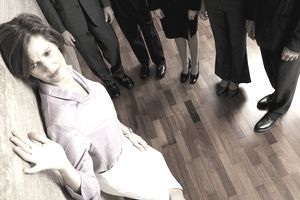 Workplace Bullying is mistreatment of one or more persons (the targets) by one or more perpetrators. It is mistreatment severe enough to compromise a targeted worker's health, jeopardize her or his job and career, and strain relationships with friends and family.
There are a number of important steps project managers can take to confront project bullying and protect their team members. As a starting point and reminder, PMI members commit to acting ethically and professionally when they become members and renew their membership (PMI Code of Ethics and Professional Conduct, 2006).
They must meet the mandatory elements within the Code to demonstrate responsibility, respect, fairness, and honesty, and are strongly encouraged to adhere to the aspirational sections of that document as well.
PMI members also have a five-step Ethical Decision-Making Framework (EDMF) they can use to guide them when confronted with an ethical dilemma involving bullying (PMI Ethical Decision-Making Framework, 2012). The EDMF can help to frame bullying problems, clarify goals, examine assumptions and options, discern hidden values, evaluate evidence, and assess conclusions.
Take Proactive Action
Business-savvy organizations and project sponsors are taking increasingly proactive steps to confront workplace bullying, reinforcing the value of ethical awareness and policies predicated on building trust, protecting employees, and instilling confidence in those who work for the organization and those who do business with them.
Anti-bullying advocates and experts offer tips to companies and project managers. Some of the most practical, proactive tips are the following:
1. Create organizational anti-bullying policies, effective methods to report and investigate alleged bullying, and make training mandatory
All organizations should establish clear and effective respectful workplace and anti-bullying policies and procedures for addressing bullying allegations.
Training, awareness, and education are critical to the success of such policies.
Hire experts to provide initial policy advice and to conduct the mandatory training. It further helps if staff members see senior management in training, sending the message of seriousness throughout the organization.
The teaching of anti-bullying coping skills to "would-be-targets" and to others has been found to be an effective long-term means of reducing bullying incidence rates and a valuable skill set for individuals. If your organization has no respectful workplace or anti-bullying policy, project managers should lobby hard for change.
2. Consider long-term project and organization well-being when addressing bullying
While bullies create many negative, long-term problems, they are often highly intelligent, manipulative, and laser-focused professionals who appear to get the job done when others have failed. Since workplace bullies often get short-term results, employers--particularly senior management level staff--too often tolerate them; thus, in spite of their negative qualities, bullies often get away with abuse and even receive positive evaluations from their supervisors.
Concern for long-term impact is often jettisoned for the current month's project progress or company sales report.
Further, being savvy politicians, bullies often make it difficult for organizations to fire them, and may threaten litigation.
For that reason, bullies may be ignored or shuffled to other departments; however, it is far better to proactively and directly address the bullying than to permit spreading poison throughout the organization.
3. Lead by example from the top
From the project manager/leader and organization's highest levels, it should be made clear that bullying isn't acceptable. Even the slightest hint that it might be tolerated is often enough for a bully to cause damage. So, from the CEO and project managers, all the way down to lower-ranking staff, the message must be one of zero tolerance for bullying.
4. Respond to all types of bullying behavior
Bullying often begins with small actions such as eye rolling, sneering, or demeaning a colleague, either in private or publicly.
Although such behavior may seem insignificant, it is unprofessional and project managers must address it immediately.
The effects of bullying arise from these types of indignities and often lead to more serious problems if left unchecked.
5. Take bullying claims seriously but tread carefully
Assuming a bullying allegation is merely a conflict between two coworkers who should sort it out between themselves represents a misunderstanding of bullying.
It's much more one-way and requires authoritative intervention. Take bullying allegations seriously, but don't assume they're true: this is for the experts conducting the investigation process to determine. Ensure that you take the initiative to respond and report and let the experts take over.
6. Bullying investigations must be impartial, fair, and fulsome
In order for a project team or the organization as a whole to feel safe and have faith that it takes this issue seriously, it is essential that investigations are unbiased, free from political interference, and result in appropriate responses if allegations are proven.
An impartial investigator should be engaged to conduct this sensitive work and be permitted to speak to anyone who may have witnessed the activity. Fair treatment for all victims, alleged or proven bullies, and witnesses is needed to engender trust in the process.
If you have any questions about strategies for preventing, coping and confronting workplace bullying, please contact me at www.paulpelletierconsulting.com.
Paul Pelletier, LL.B., PMP, is a senior executive, PMP, corporate lawyer and management consultant specializing in workplace respect. He has over 25 years of management, legal, and PMO, portfolio and project management experience. Read Paul's full bio here.