Washington Mutual Free Checking Review
How the Washington Mutual Free Checking Account Works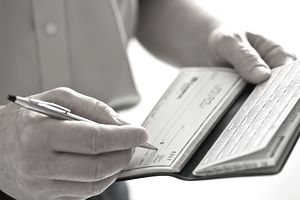 Wondering what happened to your free checking account at Washington Mutual? That account is history – but your money is still safe and accessible.
When Washington Mutual bank failed during the financial crisis (2008), Chase Bank took over the accounts. Eventually checking, savings, and credit cards were converted to Chase Bank products. For reference, a review of WaMu's product remains below, but what can you do for free checking now?
No Longer Free
Over time, the old WaMu accounts became less generous. Chase began charging fees on checking accounts, and even closed some credit card accounts without notice. It is still possible to get free checking in those converted accounts, but it's not as easy as it used to be.
Since things have changed, maybe it's a nice opportunity to review your banking needs and choose a different bank. You might even want to try a credit union or online bank if you've never done so in the past (credit unions and online banks are often a good bet for free checking accounts).
If you decide to stay with Chase or another big bank, find out what it takes to have monthly fees waived. Typically you can do this by setting up direct deposit from your employer or keeping more than the minimum account balance in your account. With the Chase Total Checking account, you'll need direct deposit of at least $500 per month or a minimum daily balance of $1,500 (there are other ways to qualify as well).
Account Review
Note: again, Washington Mutual (and this checking account) no longer exist. This review from March of 2006 is retained for your reference only.
The Washington Mutual free checking offer is stirring things up in the banking world. While almost everybody has a free checking account, the Washington Mutual free checking account offers just a bit more.
This page gives you the details on what to expect.
Washington Mutual Free Checking Overview
Like most free checking accounts, you won't pay monthly service fees, and you get a book of checks for free.
The highlights of the Washington Mutual free checking offer are:
No minimum balance
No direct deposit required
Free checks for life
Free outgoing wire transfers
Free check return or imaging
One free overdraft per year
The free checks for life, free wire transfers, and one free overdraft are the three features that get my attention. Since overdraft protection plans cost money, most consumers end up paying dearly for mistakes. You get one mistake free, and I think that's a good deal.
Washington Mutual Free Checking Extras
There are a few extras on the account. Of course you get a debit card, and you can sign up for things like fraud protection and reward programs. After you open your Washington Mutual free checking account, they will likely pursue other relationships with you as well – Washington Mutual provides loans, savings, and other services.
Washington Mutual Free Checking Pitfalls
As with other free checking offers, the Washington Mutual free checking account does not pay interest. Your cash will just sit there – which is fine if you'll be using it soon.
If not, consider linking your account to an internet bank account so that you can actually earn something on those dollars.