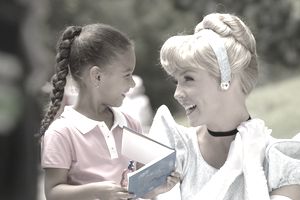 Whether you choose an airborne elephant, a magic carpet or the control center of a space shuttle hurdling towards Mars, there are many ways to make dreams take flight at the Walt Disney World Resort, especially as an employee (also known as cast member.)
Each year, thousands of students from across the country interview to become a part of the magic as an intern with the Walt Disney World and Disneyland College Programs and the Disney Career Start Program, exclusively for high school graduates.
By today's standards, the decision to become an intern for the Walt Disney World Resort is a lot like running away and joining the circus; while working to meet Walt's magical vision can be a tedious task, cast members find it hard not to be swept up in the excitement and the enchantment of Disney.
Who is Eligible to Become an Intern?
Students who have graduated high school within 48 months of submitting an application are eligible to become an intern under the Disney Career Start Program. College Students currently enrolled and who have obtained the age of 18 years are eligible for entry in the Disney College Program. Both programs serve the Walt Disney World Resort in Lake Buena Vista, Florida and Disneyland, in Anaheim, California.
The Roles of an Intern
As an intern at one of the Disney theme parks, students are engaged in a five-to-eight month long internship program that will help interns build transferable skills and leadership qualities sought in nearly every industry.
Earning at Disney
While this might be a semester away from campus, Disney interns do more than earn their keep around the parks-they earn quality skills and experiences that help them shine with prospective employers down the road. Interns participate in a paid internship, with roles available in park operations, entertainment, merchandising, food and beverage, hospitality, custodial and lifeguarding (seasonal only).
These roles will be selected by Disney recruiters if you are selected to join the program.
Learning at Disney.
In addition to working with some of the best management leaders in the industry, interns also have the opportunity to learn from their successes in a number of courses available from Disney University. These courses can be taken for college credit with approval from your school and may be mandatory, dependant on your program. Mentorships and networking events may also be available to help interns learn more from company leaders.
Living at Disney.
College and Career Start interns live within Walt Disney-owned apartment complexes while participating in the program. Interns will share housing with up to five other interns, in addition to such amenities as resort-style swimming and spa facilities, gyms, clubhouses, sports fields and easy access to area attractions. Transportation is also provided around Disney property and to hot spots throughout the region.
What Can Interns Really Expect?
At the beginning of the application period, students must attend a mandatory presentation and interview at their local high school or college. An online presentation and
telephone interview process
also provides students at a considerable distance from where the Disney
recruiters
will visit with the opportunity to view the presentation materials at home.
While the Disney recruiters are honest about their portrayal of the Disney intern programs, they and their entertainment-rich presentation will not tell you:
Interns Work Many Hours. I hope you didn't expect this to be a breeze. Interns are required to work 30 to 40 hours a week, typically, in front of thousands of people each day. Conditions can include inclement weather and intense hot or cold environments. Weekends and holidays are especially busy and most interns should expect to work these days.
Your Roommates Might Be Slobs. But, then again, they might not. Many interns walk away from this experience with friends for life. If your worst case scenario comes true, apartment management can help arrange your move, at cost.
Transportation Has Limits. In addition to the occasional standing-room only situations (especially when night shift departs for the apartment complexes), the bus transportation provided for Disney interns has a short list of stops on their routes. Interns are invited to bring their vehicles with them and this remains a highly viable option for students who wish to explore these tourist destinations to the fullest.
Getting the Most Out of Your Internship
For those who are considering a Disney Parks internship or who have already received an invitation to join the cast in the near future, the best word of advice I can give as a former intern is to come prepared to work each and every day.
While this internship probably offers more benefits than any other, the best and brightest will graduate from this program when they can say they put forth their best effort.
In addition to garnering recommendations and possible job opportunities after their internship, a good record of service means new doors are open among many different companies in the Walt Disney family.
Take advantage of any learning opportunities you may have, especially cast diversity groups, networking events and mentorships; as an intern, I was privy to the inner workings of the Walt Disney World Resort after accepting an invitation to move up as a General Teller, which serves as an assistant management role. After only three-months of intense labor and learning, I was given a great opportunity to take on more responsibility and even more privilege. The good news is this isn't a rare experience.
This role opened doors for me, from allowing me to work closely with other park officials and managers to giving me a front row seat when Disney rolled out the red carpet for celebrity guests and events.
One of the most amazing experiences was having the opportunity to share my ideas with one Disney executive during his weekly roundtable meetings, which ended with me garnering a special invitation to view the Magic Kingdom's "Wishes" firework show before it was revealed to the public in 2003.
Additionally, the annual Fall Media Preview found me face to face with then Disney CEO and President Michael Eisner, in addition to a wide range of celebrities, from Johnny Depp to Julie Andrews.
But, my most prized memory was watching the magic happen as Main Street welcomed Regis Philbin and Kelly Ripa during the three-day taping of the Walt Disney World Christmas Parade. Talk about being star struck!
Leaving the Walt Disney World Resort was an emotional experience after a great internship, but the good news is I am still taking that Disney magic everywhere I go; this opportunity has opened up a world of possibilities and has helped turn my dreams into realities.
Ready to get a piece of the magic for yourself? Find out how to qualify for the Disney Parks internships.