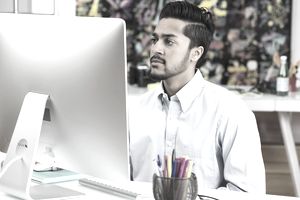 To save on interviewing costs, companies are turning to their computers instead of phones and offices to conduct interviews, including using programs like Skype to conduct long-distance or even international initial interviews.
Video interviewing used to be complicated, with special equipment and software needed to interview for employment via video. That's not the case for today's job seeker. Thanks to Skype, the online phone and video Internet service, video interviewing is moving into the mainstream.
For candidates for employment, it's easy to interview right from home. It saves on travel time and video interviewing, if you prepare in advance, can be less stressful than interviewing in person. Christa Foley, recruiting manager, Zappos, suggests that applicants:
Download the software well in advance of the interview.
Practice makes perfect: do training/test calls with your friends to become more comfortable with using Skype.
Create a professional username.
Conduct a quick test the morning of the interview to make sure the camera and the microphone are working correctly.
Taking the time to look your best and to feel confident during a video job interview is easy to do with a few simple tips from Jamie Sorcher, Resident Tech Expert for Skype.
Video Interviewing Tips from Skype
Smile and Focus
One of the easiest rules to remember when interacting with anyone is simply to smile. There is nothing more engaging than smiling throughout your call with a friendly expression.
Also important is to make direct eye contact. When you scan the room or look away from the camera, you might appear untrustworthy or indifferent. The person with whom you are speaking deserves your full attention so make sure to stay focused and friendly.
Choose your Colors Wisely
Certain colors like many shades of blue - royal, navy, sky blue - look great on video while others like reds and hot colors like magenta can be too bright.
Patterns like small dots or stripes can be less attractive than solids so think about a color to wear that is easy on the eye and a pattern that won't be distracting to your viewer.
Hair and Make-Up
The all-new Skype's high-quality video technology means you'll need to take extra care with how you look. You'll want to use some hair product that will keep flyaways tamed and you may want to style your hair so it is off your face and won't require constant adjusting. Make-up, too, is important. Remember, higher quality video means much more detail is going to be visible on the screen. Thankfully, many standout companies like Cargo, Make Up For Ever and Smashbox have products designed to help you look your best. A few suggestions include: high-definition foundation (creating a soft-focus effect in any kind of lighting), Blu-ray high-definition mattifier (refines lines, minimizes pores for a polished look) and Blu-ray high-definition lip gloss (for a high shine, plumping effect).
Background Check
While you are the focus of the call and the video, remember that there will be background material that the viewer will see. Think about how your webcam is set up and what can be detected behind you.
Are you in sitting so that a blank wall is behind you or is there a cluttered bookshelf or large painting behind you?
Lighting
Check to be sure you have enough lighting that doesn't create shadows or throw too harsh a look into your screen.
Script
Sometimes it is easier to have a few notes written down about what you'd like to talk about or topics that you want to discuss during your call. It's easy that way to scan your notes without losing direct contact with your caller or having long silences during your interaction. Also, keep an index card or notebook as well as a pen handy so you can jot down thoughts for additional comments you'd like to add during the conversation.