Use Onsite Training Programs to Build Employee Engagement
Employee Learning and Development Benefits Support Productivity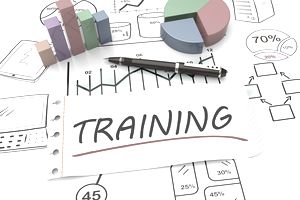 It's no secret. A workforce that's engaged in the company and the tasks at hand tends to be more productive, which increases revenues dramatically. Therefore, it should be the effort of every human resource team to find ways to actively promote employee engagement. One of the many ways to do this is by supporting onsite learning initiatives that boost employee skills and interest.
There is a Big Push for More Onsite Employee Training
In fact, employee learning is becoming the top priority for hundreds of companies that want to produce the best, most skilled workforce available.
According to most recent figures, companies have upped their employee training budgets for this year by as much as 15 percent. The average spent in learning costs for an employee in the technology sector is $1,847. Additionally, 35 cents of every dollar spent on training is currently going to leadership development programs and the rest to on-the-job skill building and product learning efforts.
The ROI of Engaging Employees with Onsite Training Programs
The return on investment is positive when companies invest in the learning and development of their best people. How much? As much as a 7 percent increase in sales revenues generated by ADP for example. With some 70 percent of operational costs allocated to people in the organization, making sure that employees have the correct training to do their jobs well can also support more employee engagement.
What are the ways that employee learning programs enhance employee engagement in the workplace?
There are a number of ways that onsite training programs can increase employee engagement, things that can add up to big dollar earnings for your company.
#1 – When employees learn, they become more confident in their jobs.
The average employee can do average work, and this can become dull over time. Also, a new employee may take months, or even years to overcome learning curves and confusion about their job tasks.
But, when an employee is empowered through onsite training programs, they become much more confident and engaged in their work.
#2 – Invest in them and employees realize their value to the organization.
Employees understand the great investment that the employer is making in developing their abilities when onsite training programs become the focus. This improves skills, performance, and carries into other aspects of their career goals. Invest in your people and let them know you support both their short term goals and long term career dreams.
#3 – More skills increase performance and innovation at work.
The main reason that employee learning works so well to increase employee engagement is because employees are able to stretch their minds to think of new and better ways of doing things. This improves performance and innovation. Having this edge can set employees and the company apart from others.
#4 - Learning benefits can be great ways to identify top performers.
Another way that employee learning programs conducted onsite can support employee engagement is that it can put a spotlight on the unsung heroes of the organization. These may be previously unnoticed employees who have the potential for being future leaders.
Learning benefits may be just what's needed to bring out their best skills and leadership abilities to become top performers. 
It is advised to work with a learning and development provider that can design a custom employee training program for your workplace. Out-of-the-box programs are not always the best idea. A custom approach is more likely to produce the types of results your business needs to stay ahead of the competition and improve employee engagement in the workplace because its more directed to what's actually needed. 
Image Credit: Fotolia