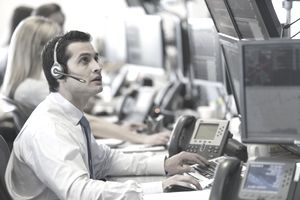 As a one-time trader of the Semi Conductor Index (SOX) on the PHLX (Philadelphia Stock Exchange), I've always been partial to this sector. So it's only fitting I give you the rundown on the Semi Conductor ETF choices for this industry.
You probably don't realize how often semi conductors are used in today's technology. From television sets to military radars to scientific laboratory equipment, semis are used all the time.
And there are some very popular companies that manufacture semi conductors. Intel, Texas Instruments, and San Disk to name just a few.
So if you think you might want to expose your portfolio to a little semi conductor power, then instead of buying 30 some odd semi conductor manufacture stocks, consider a prepackaged ETF targeting the semi conductor industry. 
With a semi conductor ETF, you can have instant exposure to this sector, without having to research individual stocks to find the right combination for your portfolio. That work is already done for you. And as opposed to a semi conductor index like the SOX, you can get this instant exposure for your portfolio without having to buy or sell an index basket. Again, this will save you on commissions.
So if semi conductor ETFs sound like the right fit for your portfolio, then I have you covered. There aren't a slew of options, but there is some diversity, which gives you choices when picking a fund.
Check out the funds below to help you decide which semi conductor ETF will help you accomplish your investing goals…
List of ETFs for the Semi Conductor Industry
PSI - Power Shares Dynamic Semi conductors ETF
SMH - Market Vectors Semis ETF
SOXL - Direxion Daily Semiconductor Bull 3x Shares ETF
SOXS - Direxion Daily Semiconductor Bear 3x Shares ETF
SOXX - iShares PHLX SOX Semi conductor ETF
SSG - Ultra Short Semi conductor Pro Shares ETF
USD - Ultra Semi conductor Pro Shares ETF
XSD - SPDR S&P Semi conductor ETF
And make sure you realize that SOXL, SOXS, SSG and USD are leveraged funds and SOXS and SSG are also inverse ETFs, too. Important to know that difference from normal funds and notes.
Don't forget check back on this list from time to time to see if any other semi conductor have come to market. I've already added 4 new funds to this list. And I will add more as they launch. And if any ETFs or ETNs get delisted, I'll update this article with that news as well. So don't be a stranger.
Also, before making any trades, be sure to consult your broker, your advisor or a financial professional. Research each ETF individually, know how each fund works. Especially since some of these ETFs are leveraged and inverse funds, which are a little more complex and are more for the advanced trader. So, keep an eye on how they react to different market conditions. As with any investment, conduct your due diligence. No investment is risk-free, so make sure you are aware of the pros and cons of any investment or in this case…Semi conductor ETF.
Disclaimer: At the time of publication of this ETF spotlight, I do not have any open positions in the above semi conductor ETFs and ETNs - Mark Kennedy