Use eBay Messaging Like a Pro
eBay's messages system is more usable and powerful than you might think.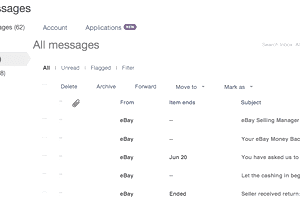 One of the unique properties of eBay is that open communication between buyers and sellers on eBay is a fact of life.
Years ago when eBay was young, this communication simply took place over email, but gradually increasing abuse in the form of email spam and unwanted contact led eBay to create the email forwarding system that now enables eBay users to communicate on and off the site.
Communication by email isn't always ideal, however, particularly if you have a large volume of non-eBay email to content with (causing eBay email to be lost in the shuffle) or if you do a lot of business on eBay (causing piles of eBay emails that all look similar to one another to pile up in your inbox).
As it turns out, you can handle all of your eBay communication on eBay itself, accessing the same messages in a special communication area inside eBay.
Accessing Your eBay Messages
To access your eBay messages—including things like return instructions, offers you've received, communication about disputes, and so on—on the eBay website, follow these steps:
Hover over "My eBay" at the upper-right of any eBay page
Select "Messages" from the pop-up menu that appears
Following these steps will deliver you to a message area that's not unlike most web-based email systems like Gmail or Yahoo Mail.
Here you can open, read, and reply to any eBay communication that you've received. When new communication arrives, you'll be notified by a counter icon that appears over the image of a bell at the upper-right of any eBay page. Click on it to go directly to your new messages.
Organizing Your eBay Messages
Once of the nicer features of eBay's online messaging system is its ability to enable you to create folders to store your eBay communication, and to move messages into these folders when you're done with them.
To create a new folder, follow these steps:
Click "Add a folder+" under "Folders" on the left sidebar in the messages area
Give the folder a name in the space provided ("Returns," for example, or even "Fly Fishing Returns")
Click "Save" to create a new folder for messages
After creating a new folder, you can move messages into it by following these steps:
In the message list, place check marks in the left-most column next to any messages you'd like to move
Click on "Move to" and then select the name of the destination folder from the pop-up menu that appears
The messages you selected will be move into the folder you specified, and in future, whenever you open that folder, you'll see those messages.
Preserving Your Messages
Some sellers may need to save their own copies of messages for future reference. Doing this one message at a time can be annoying, but eBay provides a way for you to download and save entire folders of messages at once.
To save your messages, follow these steps:
Click "Save your messages" in the lower left sidebar
Select the folder whose messages you'd like to save
Select a time frame of messages to save
Select a format, either EML (to "import" the messages into an email program) or HTML (to save them in a format compatible with your web browser)
Click "Continue" to make the messages available for download, in your chosen format, in a ZIP file
Customizing Your Message View
Because the messages you send and receive on eBay often relate to particular listings, it can be helpful to customize the way in which messages are displayed to you to make this more obvious.
Click on "Change settings" at the upper right of your messages for options related to how many messages to show at once, what kinds of contextual information (such as item numbers or names) to show about messages, and even to be able to set an "away" response so that users who message your eBay ID while you're on vacation get an appropriate answer without your having to actually respond right away.