University of Miami Music Business and Entertainment Industries Degree Program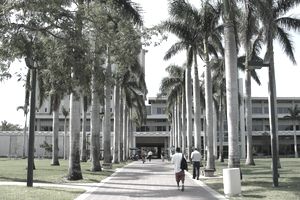 University of Miami Overview:
What: University of Miami Music Business and Entertainment degree program
Where: Miami, Florida, USA
Degrees Offered: B.M. and M.A.
Music Business and Entertainment Industries: Basic Program Information:
The University of Miami's Music Business and Entertainment Industries degree program is part of the university's Frost School of Music, although students also take many classes in the School of Business.
The Frost School of Music also offers a Bachelor's degree in music, but the difference between that degree and the music business degree is that the emphasis in the latter is on preparing students for the business side of the industry. Although students in the music business program still must take classes in music performance and theory, learning the industry is the focus.
What Will You Learn?:
There is plenty of room within the music degree program for students to develop their own interests, including recording and studio work, management, record label jobs, music promotion, and even teaching music. Although students are able to develop their specialty, they are exposed to all aspects of the music industry so they will be able to see how their chosen field fits into the larger picture.
There is also an emphasis on learning basic business principles, and all students in the music business degree program will earn a minor in business administration from the University of Miami business school.
'Cane Records:
'Cane Records is the student run record label of the University of Miami School of Music. The label provides an opportunity for students to get hands-on music business experience in several different aspects of the industry. The label produces a welcome CD distributed to new students every fall, distributes CDs by faculty members, and also signs and releases artists unaffiliated with the program.
Graduate Program:
University of Miami is one of the few schools to offer graduate study in the music industry with their Master of Music. The exact requirements for the Master's program differ depending on your undergraduate experience - those without specific music industry degrees may have to make up some undergrad deficiencies before completing the master's degree.
Admissions:
All students must follow the general admissions procedure for the University of Miami, but they must also audition for the School of Music faculty before being admitted to the program. You can learn more about the admissions procedure on their website.