University Endowments Wrestle With Sustainable Investing
Part 1 of 3 on University Endowments' Sustainable Investing Efforts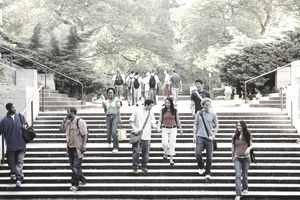 In 2016, as demand for sustainable or responsible investing soars, the world needs more educated students to construct sustainable investment funds, and apparently, U.S. universities do, too. In recent years, university endowments have struggled to submit to students' requests for divestment and sustainable investment, claiming they're barred by a lack of responsible pooled fund alternatives and the need for strong financial returns.
Is there a tradeoff between responsible investments and returns? Does a lack of responsible pooled funds exist?
               This three-part series examines why university endowments struggle to submit to students' sustainable investing requests before featuring up-and-coming solutions and suggesting how students can play a role. It highlights exciting new groups like the Intentional Endowments Network and concludes that, while divestment is necessary, endowments are not be the best target for this movement.  Students may ultimately effect more positive systemic change by pushing for broader responsible investing practices and creating responsible pooled fund alternatives instead.
Let's jump in.
Part 1: University Endowments & Their Struggle to Join the Responsible Investing Movement
               Endowments support nearly 10 percent of universities' operating costs, so it's no surprise they're under pressure as these costs continue to rise.
In 2015, the pressure was particularly acute as endowments surveyed by the National Association of College & University Business Officers (NACUBO), representing over $529 billion in assets under management, saw their 10-year average returns decline to 6.3 percent. A January 2016 report from NACUBO and Communfund highlights that average annual returns have been volatile over the past decade, with the 2015 decline representing a near return to the 2012 trough.
It's within this economically challenging context that students protest for divestment from fossil fuel as endowments seek greater returns.
               While students – with the support of divestment networks such as 350.org – valiantly fight to protect the planet's future, university endowments push back, citing limited involvement in fossil fuels, uncertain financial returns, and a lack of divested pooled fund alternatives as reasons not to get involved. Tufts University is a prime example, where students demanded the $1.6B endowment divest from fossil fuels in 2013. The university established a Divestment Working Group composed of students, faculty, and trustees that recommended against divestment, ultimately concluding:
"Divestment would likely result in a significant reduction in operating funds, leading to an immediate material and adverse impact on the educational experience, access to a Tufts education, and research.
Restructuring the endowment to include only managers of fossil-fuel-free funds would cause a meaningful impact on the diversification and risk/return profile of Tufts' endowment.
Divestment by Tufts would have no impact on the cost of capital to, or the behavior of, fossil fuel companies, especially given that Tufts currently has less than 2 percent of its assets invested in fossil fuel companies."
                It's unclear what assumptions went into the Working Group's model to show that divestment from fossil-fuel-free funds would result in lower returns, especially since several studies tout divested portfolios' ability to outperform peers. However, a university source cites a possible shift in underlying asset classes – since there's a lack of pooled funds meeting Tufts' typical size and historical performance requirements – as one cause.
               The Tufts endowment's claims are supported by other universities, as well. Bloomberg reports the 10 wealthiest schools recently committed to divest $25 million of fossil-fuel stocks from the $30 billion of assets they manage, highlighting divestments' limited impact. That's equivalent to 0.08% of the schools' holdings and an even more laughable 0.0006% of fossil fuel companies' $3.67 trillion market cap.
A recent article from the Seattle Spectator also highlights how pooled funds limit Seattle University endowments' ability to divest from fossil fuels, which compose 6.1 percent of its smaller $200M endowment.
               It's clear, then, that students may be able to amplify their impact if they encourage endowments to move beyond divestment to broader responsible investment practices; however, they need to make sure the responsible pooled fund infrastructure is in place and it needs to yield outstanding results first. After the closure of its Divestment Working Group, Tufts seeded a Sustainable Investment Fund (SIF) with $1 million and outsourced its management to a Boston-based ESG-focused asset manager. It's currently waiting to see how the fund performs compared to the larger endowment's investments, but the comparison isn't necessarily a fair one since SIF's small size may limit adequate diversification. 
               Luckily, other university endowments are recognizing this trend, and some are beginning to incorporate ESG factors into their investing efforts, as well. NACUBO indicates that, of the 812 endowment respondents in its study, 7% said they were considering changing their investment policy to include integration of ESG practices in their investment process; 15% said they seek to include investments ranking high on environmental, social and governance (ESG) criteria in their portfolios; 16% said that they allocate a portion of the endowment to investments that further the institution's mission; and 25% said they exclude or screen out investments that are inconsistent with the institution's mission. These encouraging figures suggest students may gain more traction if they move beyond divestment protests – whose impact within large endowments is small – to discussions of broader responsible investment strategies.
               The next post in this series will highlight up-and-coming solutions to endowments' responsible investment concerns. It'll specifically look at universities that have already pursued responsible investing well and examine the success of the new Intentional Endowments Network, whose current university endowments will be confirmed as founding network members on February 29.
--------------------------------------------------------------------------------------------------
Ali Edelstein is a Master of International Business candidate at Tufts University's Fletcher School of Law & Diplomacy with experience in corporate sustainability and investment management. She's interested in the nexus of these fields and is always seeking to convene key players between the two.