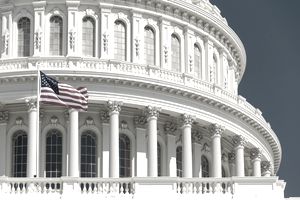 The Unemployment Compensation for Federal Employees (UCFE) program provides unemployment benefits for eligible unemployed former civilian Federal employees.
Unemployment Benefits for Federal Employees
Former Federal employees can file an unemployment claim if they have been separated from their public sector job, placed into a nonpaid status or transferred to a different payroll office.
In general, state law where an employee's last Official Duty Station was located will be the state law that determines eligibility for unemployment insurance benefits under the Unemployment Compensation for Federal Employee Program.
Eligibility for Unemployment
The Unemployment Program for Federal Employees is operated under the same terms that apply to regular state unemployment insurance. The law of the state where the claim is filed determines benefits amounts, the number of weeks benefits can be paid, and other eligibility conditions.
While eligibility and the amount of benefits vary from state to state, all State Unemployment Insurance laws require that a former federal employee be currently unemployed and able and available for suitable work. In some instances, part-time employees are also eligible for benefits. All former Federal Employees must also register for work and file an unemployment claim at their local public employment or Unemployment Insurance offices. 
Benefit Denial
Regardless of the state, all Unemployment Insurance offices will deny former Federal Employees benefits if they quit voluntarily, were fired for misconduct, or refuse to accept a new employment offer without good reason.
Unemployment Compensation
The Unemployment Compensation for federal employees program is administered by state unemployment offices as agents of the Federal government. Compensation is issued by each state's Employment Security Agency under its unique unemployment insurance legislation. Benefits are paid for with government funding, and as such, deductions are never taken from pay during Federal Employment to finance this program.
The amount of weekly compensation and the time for which benefits will be issued are determined by the law of the state in which you last served at an Official Duty Station. The Duty Station is listed on the last "Notification of Personnel Action" also knows as the SF-50 document. If you have received all of the benefits in the time period for which you are eligible, there are instances where you may still be eligible for extended benefits. 
Former Federal Employees whose last Official Duty Station was outside the United States will not be able to collect compensation until they return to the United States. Benefits will be determined by the legislation of the state where you take residence.
Reemployment
If you accept a new job offer and have been collecting unemployment benefit payments, it is your responsibility to notify your local office, in person or in writing, to cease benefit payments now that you are re-employed. Punishment for collecting benefits while employed can result in fines or imprisonment.
Filing a Claim
To file a claim for unemployment, check with your state unemployment office for information on how to open a claim. You may be able to file online or by phone. It is recommended that you file a claim as soon as possible.
Delaying your claim may reduce benefits, and in some cases, former employees may not qualify for any benefits at all. 
When preparing to file a claim, be sure to bring a form of identification (like a passport or driver's license), the official notice of your termination or non-pay status, form SF-50, pay stubs, and any other documents that prove past employment by a Federal Agency.