U.S. Department of State: What It Does, How It Affects the Economy
How It Helps You Even If You Don't Travel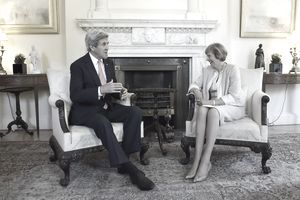 Definition: The U.S. Department of State is a federal agency that oversees America's international interactions. That includes official federal government initiatives, business relations, individual travel, and immigration. Its goal is to implement the President's foreign policy. It oversees the international activities of other federal departments. These include the Defense Department, Homeland Security, CIA, and USAID.
 It also advises the President on all international issues.
What the State Department Does
The State Department manages relationships with 180 countries out of the 191 countries with which the U.S. maintains diplomatic relations. It maintains 270 embassies, consulates, and missions around the world. It  employs over 13,000 workers. Of these, over 9,000 Foreign Service workers live abroad as U.S. emissaries and ambassadors. They employ 45,000 local workers. They represent America's interests and assist U.S. travelers in those countries.
It negotiates treaties and trade agreements. That includes the Transatlantic Trade and Investment Partnerhip, which would be the world's largest. It's between the United States and the European Union. The State Department successfully negotiated the Trans-Pacific Partnership, which is awaiting ratification from its signatories.
It received $37.8 billion in the FY2017 budget.
It can rightfully be considered part of defense spending since part of its manadate is to "shape and sustain a peaceful, prosperous, just, and democratic world." It aids in the fight against terrorism for which it receives $14.9 billion in overseas contingency operations. It works with foreign countries to cut funding for terrorist organizations.
It supports local law-enforcement. It eliminates terrorist safe havens.
It reports to Congress on  human rights and religious freedom in designated countries. It also provides analyses of black market activities such a narcotics, human trafficking, and terrorism. These activities are often perpetrated by global criminal organizations. There is a huge service industry that supports them. They include providers of false documents, money launderers and legal, financial, and accounting professionals. These activities contribute between 8% to 15% of the global economy. The State Department assists small countries combat these global organizations. (Source: "Transnational Issues," Diplomacy.org. "The Destructive Impact of Illicit Trade and the Illegal Economy on Economic Growth, Sustainable Development, and Global Security," U.S. Department of State, October 26, 2012)
The State Department provides services, including passports, for citizens traveling and living abroad. It provides visas for foreigners visiting the United States.
The State Department provides expertise to U.S. businesses operating overseas. It identifies opportunities It works to achieve fair business practices for U.S. firms.
That includes intellectual property protection, intervening with local corruption and bribery, and promoting a climate for entrepreneurship. (Source: "Empowering Business and Entrepreneurship Abroad," U.S. Department of State.)
Secretary of State
The Secretary of State is the President's principal adviser on foreign policy and the person chiefly responsible for U.S. representation abroad. The Secretary is the highest-ranking member of the President's Cabinet. He or she is fourth in line of presidential succession after the Vice-President, Senate Majority Leader, and Speaker of the House. Congress created it in 1789. Thomas Jefferson was the first Secretary of State.
The Secretary sits on the National Security Council with the Department of Defense, the CIA and the Treasury Secretary. They coordinate international relations, intelligence, and defense under the President's supervision.
How It Affects the U.S. Economy
The State Department affects the U.S. economy by negotiating trade agreements. These increase export opportunities for U.S. businesses by eliminating tariffs. Exports contributed $2.23 trillion in 2015. That's more than 10% of the nation's output. It boosts economic growth and creates jobs. For example, NAFTA increased growth by 0.5% a year. For more, see Free Trade Agreements Pros and Cons and U.S. Imports and Exports.
The State Department reduces the economic volatility associated with terrorism. It promotes economic stability within other countries throughout the world. That makes it easier for U.S. companies to do business overseas.
If you plan to travel outside of the United States, the State Department will issue you a passport. It provides assistance for travelers, such as tips for traveling abroad, country briefings, and travel warnings. You should register with the U.S. Embassy of the country you are visiting. If there is an emergency, the Embassy will contact you and assist in leaving. If you are a foreigner wishing to visit the United States, you need to apply for a visa for short stays.