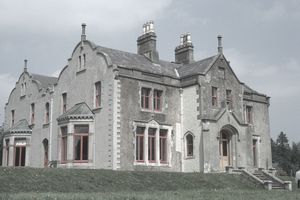 Tyrone Guthrie Centre at Annaghmakerrig, County Monaghan Ireland was established in 1981.
Visual artists such as printmakers, painters, and photographers, plus writers, musicians, and performing artists are invited to submit an application to be considered for a short-term artist-in-residence slot.
Mission:
Renowned theater director Tyrone Guthrie stated in his will, "...my said dwelling-house, furniture, pictures and chattels and the income of my residuary estate to be used for the purpose of providing a retreat for artists and other like persons....
so as to enable them to do or facilitate them in doing creative work."
Born in 1900, Tyrone Guthrie (d. 1971), the Tony Award-winning theatrical director, had helped establish the Stratford Festival of Canada and the Guthrie Theater in Minneapolis, Minnesota. His great-grandfather was the famous 19th-century Irish actor Tyrone Power.
Location:
The Tyrone Guthrie Centre is located in Annaghmakerrig, Newbliss, County Monaghan, Ireland.
There are "450 acres of garden, parkland forest, lake, two boats (oars and life jackets) and walking trails."
Studio Facilities:
The studio facilities can accommodate visual artists, writers, composers, musicians and dancers.
The Big House has one artist studio and there are eight studio spaces available, each equipped with an easel, tables and sink. A black and white photo darkroom is available.
There is a music room equipped with a Young Chang Grand Piano, and an acoustic studio equipped with a recording system, leads and cables.
A performance space is equipped with a piano, one mirrored wall and two free standing ballet barres.
The Print Studio includes a Rochat 54" Press and is equipped for printers who use Intaglio, Mezzotint, Carborundum, Linocut, Woodcut and Japanese woodcut. Printmaking tools are also available, but artists are advised to bring their own ink, paper and tools.
Living Facilities:
"The eleven comfortable rooms in the Big House include a bed, writing desk and a chair."
"The five unique cottages situated in the farmyard are self-catering but artists are invited to dinner once a week in the Big House with prior arrangement. Each cottage has a living room/workspace, bedroom, kitchen and bathroom."
Application Process:
The Tyrone Guthrie Centre's website provides detailed information on how to apply for a residency, which can be done online or by post.
Length of Residency:
A residency is up to three months in the Big House and up to six months in the Farmyard Cottages.
Funding:
Tyrone Guthrie Centre's price list provides the rates for staying as a resident.
Noteworthy Facts:
"Dinner is served Monday-Saturday in the Big House at 7:00pm and it is the one stipulation laid down by Tyrone Guthrie in his Will that all artists would gather for a meal once a day."
Contact Info:
The Tyrone Guthrie Centre Annaghmakerrig Newbliss County Monaghan Ireland, TEL: +353 0 47 54003
Tyrone Guthrie Centre's website