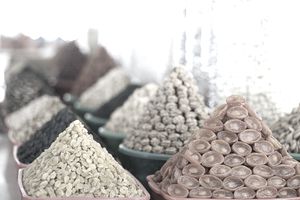 Turkmenistan Has Vast, Untapped Energy Reserves:
Turkmenistan has more natural gas (2 trillion cubic meters) than Canada. It is strategically located next to Iran, Afghanistan and the other petroleum-rich countries in Central Asia. It also borders the Caspian Sea, which could hold "possible reserves" of up to 233 billion barrels of oil. ("Possible reserves" are considered to be 50 percent probable.) By comparison, Saudi Arabia has 261 billion barrels of oil and the United States 23 billion.
The U.S. EIA says that the Caspian only has 33 billion barrels of proven oil (Proven means that experts agree it is 90% probable.)
Russia Uses Turkmenistan to Advance Its Pipeline Politics:
Turkemenistan natural gas will be piped through Kazakhstan and Russia to Europe, thanks to a new gas pipeline agreement signed by the three countries. When complete, the pipeline will allow 80 billion cubic metres per year of Turkmen gas to be sold through Gazprom, Russia's state owned natural gas monopoly. The pipeline agreement is another barrier in the relationship between Russia and the EU, which will see it as another example of Putin's "pipeline politics." It opposes the weak U.S. attempt to build a gas pipeline that excluded Russia.
Turkmenistan's Election May Make It More Independent from Russia:
In 2007, Turkmenistan held its first Presidential election in 12 years. Gurbanguly Berdimuhammedov won, although the election was not really free.
It followed the death of former President Saparmurat Niyazov. Known as "Turkmenbashi the Great", Niyazov was an autocratic ruler who had been "elected" President for life in 1999.
That an election was held at all is a sign that the new government is worried about potential domestic unrest, a result of decades of authoritarian rule.
Energy analysts hope that the new government may encourge foreign investment to develop Turkmenistan's vast reserves of natural gas.
Russia Has Long Had a Stranglehold on Turkmenistan's Gas:
Russia has long had a monopoly on the gas pipeline, despite Turkmenistan's independence from USSR rule in 1991. Turkmenistan has more gas reserves than Canada, but hasn't developed them thanks to Russia's control over former President Niyazov. The major gas pipeline from the country runs through Russia. Disputes with Russian gas giant Gazprom have led to several cutoffs in supplies.
The U.S. Is Interested in Turkmenistan's Gas Reserves:
Germany, the EU, China, Iran, Turkey, Pakistan, India and even the U.S. are interested in developing Turkmenistan's gas fields, if the new government can assure investors that their investments will not be nationalized. To gain access to the gas fields, new distribution pipelines and routes must be developed to circumvent Russia's stranglehold.
Turkmenistan Has Been Repressed:
The country's people have been severely repressed. Some of Niyazov's most unpopular measures are being overturned by Berrdimuhammedov, who promised to:
Increase grade school education from 9 to 10 years.
Increase university education from two to five years. The best students will be allowed to study abroad.
Restore the pension plan which Niyazov had curtailed.
Make sure there is enough seed and fertilizer to prevent bread shortages.
Increase free access to the Internet.
Allow residents to travel outside of the country.
On the other hand, Berrdimuhammedov is showing other signs of continuing an autocratic reign. One of the campaign's opposition candidates, Nurberdy Nurmammedov, "disappeared" in December after he was taken away by government officials.
Facts about Turkmenistan:
80% of country is desert.
Borders Caspian Sea, which is polluted.
Population is 90% Muslim.
GDP is $45 billion.
GDP annul growth rate 14%.
GDP per person is $8,900- better than China or Brazil. Oil proved reserves - 273 million barrels.
Oil production - 213,700 bbl/day, mostly used internally.
Natural Gas proved reserves - 2.01 trillion cubic meters - more than Canada, 16th largest.
Natural Gas exports - 42 billion cubic meters.