Learn About the Tuition and Fees Deduction
The deduction has expired, but you might still claim education credits.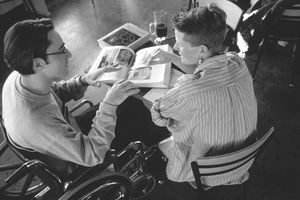 Up until the end of 2016, taxpayers could deduct the cost of college tuition and other education-related fees and expenses for their spouses, their dependents, and themselves. The tuition and fees deduction was an adjustment to income that could be taken directly on the first page of Form 1040 or the shorter Form 1040A.
These "above the line" deductions are particularly advantageous because you don't have to itemize to claim them and they help to determine your adjusted gross income or AGI.
Several other tax breaks can depend on your AGI because they're phased out or even eliminated entirely for taxpayers whose AGIs are too high.
Alas, you'll have to depend on other above-the-line deductions if you want to try to whittle away at your AGI going forward. The tuition and fees deduction was scheduled to sunset or expire at the end of 2016 unless Congress acted to breathe new life into it, and Congress did not. 
Where Does This Leave Tuition-Paying Taxpayers Now?
Of course, if you neglected to claim this deduction in 2016 or earlier and you were eligible to do so, you can always go back and file an amended return for the year or years in question. And there's a slim, outside chance that Congress could still act to renew the tuition and fees deduction retroactively, although the further we get into 2017, the less likely this appears to be.  
You still might not be left out in the cold going forward, however.
Congress and the IRS have graciously left two education-related tax credits intact, so you might qualify to claim one of these in 2017 and subsequent tax years. They're actually more generous in some ways than the expired tuition and fees deduction. 
The Lifetime Learning Credit 
If you're paying education-related expenses in 2017 or later, you might be eligible for the Lifetime Learning tax credit.
This credit works out to 20 percent of the first $10,000 you spend on qualified education expenses up to a maximum credit of $2,000. The student for whom tuition and fees are paid must complete at least one academic period or semester and, unlike the tuition and fees deduction, he must be working toward a degree or other certification.
Eligibility for this credit depends on your modified adjusted gross income. Your adjusted gross income figure is modified by subtracting out any domestic production activities deduction and adding back any foreign earned income exclusion, foreign housing exclusion, foreign housing deduction, or income excluded from American Samoa or Puerto Rico. You cannot claim the Lifetime Learning Credit if your modified adjusted gross income is more than $65,000 if you're a single taxpayer or $131,000 for married taxpayers filing joint returns. The credit begins phasing out or reducing at modified adjusted gross incomes of $55,000 or $111,000 for married taxpayers filing joint returns. 
Unfortunately, the Lifetime Learning credit is not refundable, which means it can erase your tax bill but the IRS won't be sending you a refund for any unused balance after your tax obligation is eliminated.
The American Opportunity Tax Credit 
Then there's the American Opportunity tax credit, which might also help fill the void left by the tuition and fees deduction. This credit might also be on shaky ground, however. It, too, was scheduled to sunset at the end of 2016, but Congress extended it at least through the 2017 tax year.
This credit can only be claimed for the first four years of post-secondary education. The student must be working toward a degree, credential, or certificate, and he must carry at least half the credit hours that a full-time student would be expected to complete. 
It's a bit more generous than the Lifetime Learning Credit in that it includes some costs for equipment, books, and other supplies that are not paid directly to the school. And the maximum credit is $2,500—$500 more.
It's calculated based on 100 percent of the first $2,000 you spend on qualified expenses and 25 percent of the next $2,000.
Income limitations are a bit more forgiving with this credit as well: $90,000 or less for single filers or $180,000 for married persons filing joint returns. These figures are also based on modified adjusted gross incomes. Phase-outs of the credit begin at incomes of $80,000 and $160,000 respectively. 
Up to $1,000 of this credit or 40 percent of the amount of the credit you qualify for is refundable, too, so the IRS might send you a check if and when the credit erases your tax obligation. 
You can claim one or the other of these credits if you qualify, but not both. 
Eligibility for the Tuition and Fees Deduction
If you want to go back and amend a return to claim the tuition and fees deduction, or if Congress does indeed resurrect it, there are eligibility rules for this, too. 
The deduction was available to any taxpayer who paid tuition and other required fees for attending college or any other post-secondary school. Parents could deduct tuition for their kids as long as the student was their dependent. The deduction could not be claimed by married couples who filed separate tax returns.
One of the greatest advantages of the tuition deduction was that it wasn't subject to some the exacting rules that the education-related credits are. It was not restricted based on what year of college you or your dependent were attending, or if you were a part-time or full-time student. Taking even one class could qualify you for this deduction. 
Expenses for courses related to sports, games, hobbies, insurance expenses, and non-academic fees such as student activity fees were not deductible, however, even if they were required by the school. Similarly, the cost of books, supplies and computer equipment cannot be deducted as part of the tuition and fees deduction. Schools report the number of qualifying expenses to you and to the IRS using Form 1098-T for both the deduction and the education-related tax credits. 
The maximum amount you could claim for the tuition and fees deduction was $4,000 per year. The deduction was further limited by the following income ranges based on modified adjusted gross incomes:
$4,000 maximum for income up to $65,000 ($130,000 for joint filers)
$2,000 maximum for income over $65,000 and up to $80,000 ($160,000 for joint filers)

No deduction for income over $80,000 ($160,000 for joint filers)
Filing an Amended Return 
You can deduct tuition and other required fees for the tax year in which you paid them and for classes starting in the first three months of the year to follow. If you were eligible to claim the deduction and missed it, you can amend your return up to three years after you filed your original return or two years after you paid the tax due for that year, whichever is later. 
You can report the tuition and fees tax deduction using Form 8917. The amount of the deduction is also reported on Form 1040 or Form 1040A.