Trudeau Looks to Open Canada's Market to Foreigners
Trudeau Embraces Globalism as the U.S. Moves to Protectionism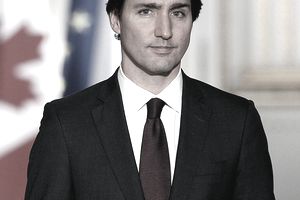 Prime Minister Justin Trudeau has become widely popular with a remarkable 78 percent approval rating among 18- to 34-year old Canadian citizens. After a series of meetings earlier this year, Trudeau and a team of ministers are hoping to achieve the same level of popularity with institutional investors including central banks, sovereign wealth funds, insurers, and pension funds with some C$21 trillion at their disposal.
Let's take a look at some of these efforts and whether U.S. investors may want to consider a bet north of the border.
Boosting Growth
Trudeau plans on investing in 'transformative' infrastructure to boost the country's sluggish economic growth. Earlier this year, the government announced plans to create a new infrastructure bank with $35 billion to invest over the next ten years. The government hopes to attract $4 to $5 in private capital for every dollar of public capital invested in these projects, which represents significant leverage on taxpayer dollars.
International investors have expressed a lot of interest in infrastructure investments since they are generally predictable and safe. In the U.S., these kinds of investments may mirror the municipal bond market that's known for its attractive yields and high credit ratings. The demand for Canadian investments may also be greater due to the surprising U.S. elections, which have introduced a level of uncertainty into the market.
Tax Incentives
Trudeau plans to further incentivize foreign investment with the creation of the Invest in Canada Hub, which will employ a new, dedicated high impact sales force to promote Canada and work with global companies and invite them to expand into Canada. The new entity will work in conjunction with Global Affairs Canada, the Canadian Trade Commissioner Service, and Innovation, Science, and Economic Development Canada.
In addition, he plans to relax some restrictions on foreign investment through the modernization of the Investment Canada Act. The government will increase the threshold for review to $1 billion in 2017 two years sooner than the planned date of 2019 to encourage M&A in the country. The government will also publish guidelines under which investments are examined for national security to improve transparency.
Investment Options
International investors have several options for investing in Canada, including exchange-traded funds (ETFs), American Depositary Receipts (ADRs), or direct investment.
Canadian ETFs represent the easiest way to invest in the country's future by providing diversified exposure to hundreds of securities at a relatively low expense. For example, the iShares MSCI Canada ETF (EWC) holds over 90 different companies with a modest 0.48 percent expense ratio. Investors can also pinpoint specific sectors, such as energy, or hedge against currency movements using various Canadian ETF offerings.
Most brokers also allow U.S. investors to purchase Canadian stocks directly on the Toronto Stock Exchange or Canadian Stock Exchange without excessive fees. However, investors using brokers that charge extra may want to consider Canadian ADRs as an alternative.
These are securities that trade on a U.S. stock exchange and represent a set number of shares of a foreign stock, which provides easier exposure but often without as much liquidity.
To learn more, see How to Invest in Canadian Stocks and Bonds for a list of Canadian ETFs and ADRs to consider for exposure to the country's markets.
Risk Factors
Investors should consider several important risk factors when considering an investment in Canada. In addition to country-specific risk factors, investors should carefully consider the expense ratios associated with ETFs and the trading costs associated with ADRs and stock.
Some important risk factors to consider include:
Reliance on Commodities: Canada's economy is largely dependent on natural resources, such as crude oil and gold, which means that commodity price swings could take a toll on its economy even if its infrastructure expands.
Exposure to the United States: The U.S. is Canada's largest trading partner, which means that any adverse policies — such as a restructured NAFTA agreement — could negatively impact the country's economy.
The Bottom Line
Prime Minister Justin Trudeau has widespread popularity at home and is hoping to spread the popularity abroad with international investors. Through a series of economic initiatives, Trudeau hopes to draw in foreign investment dollars that could bolster economic growth. International investors looking to capitalize on this growth may want to consider Canadian ETFs, ADRs, or foreign stock as a way to profit.