Trends in College Acceptance and Admissions
What Does the State of College Admission Report Mean to You?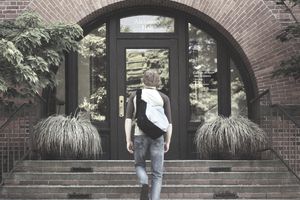 Parents of next year's high school juniors and seniors who want to know more about trends in college admissions now have a valuable resource available. The National Association for College Admission Counseling (NACAC) just released its 2014 State of College Admission report. The report is based on surveys conducted in the spring of 2013 with thousands of high school and college officials.
The report can be read online or downloaded for a small fee, and covers such topics as Applications to College, Admission Strategies, Factors in the Admission Decision, School Counselor and College Counseling, the College Admission Office, and Transfer Students.
Some of the highlights which may be of interest include:
The Number of High School Grads is Peaking: After decades of growth, the number of students completing high school each year appears to be leveling off. It may even decrease somewhat over the next ten years, but there is a wide pattern of variation in projected change, based on state and regional data.
The College Enrollment Picture is Changing: Although the report saw evidence of a slight decrease in the number of college students, this decline was seen more at two year colleges than at public or private four-year institutions. In fact, the Department of Education still predicts that the number of college students will increase over the next ten years.
The Number of Applications is Increasing: This indicates that students are applying to more colleges than they did in the past, and being accepted to more colleges. Online applications are now the norm, with almost 92% of applications being submitted online. Colleges are accepting approximately two-thirds of the applicants.
Early Decision/Early Action: Competition appears to be holding steady for early admission. Early Decision activity is increasing somewhat, with about half of the colleges increasing the number of students accepted through this process. Many more students are participating in the Early Action process, with about 68% of the colleges increasing their acceptances through this option.
Wait List Acceptance: 43% of the institutions surveyed use wait lists, with an admission rate of about 30%.
Admission Factors: Although there has been some movement to assess other factors, grades, high school curriculum and test scores are still the operative words in college admissions. Our old friend, the college admission essay, still ranks high on the list at about one-third of the schools.
Transfer Students: A sizeable proportion of students will transfer at least once, particularly from two-year to four-year institutions. While acceptance rates are similar to those who apply through traditional routes, more students will ultimately enroll. This shows a keener grasp on the preferred college for transfer students. More four-year colleges are building stronger relationships with community colleges to facilitate the transfer process.
Although the number of high school graduates may be hitting a plateau, that doesn't mean the college admission process is getting any easier. That is why we are seeing an overall increase in the number of actual applications, because students are hedging their bets by applying to more colleges. There is also good news for those students who find themselves waitlisted for a preferred school, or thinking about transferring from one school to another.
The college admission process may move in new directions in the upcoming years, and it is always a good idea to stay one step ahead of the pack. Forewarned is forearmed when it comes to finding and applying to colleges, and receiving sufficient financial aid to be able to cover the cost of tuition.