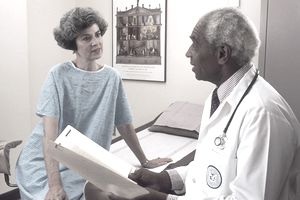 Traditional Indemnity Health Insurance Plans are also referred to as "fee-for-service" plans. This is the traditional type of insurance that was what most health insurance companies offered to insurance consumers before the prevalence of PPO (Preferred Provider Organizations) and HMO (Health Maintenance Organizations).
More Choices
With a traditional indemnity health insurance plan, you will not be limited to choices of health service providers that are within a certain preferred provider list as you might be with a PPO or HMO plan.
With many of these plans, there are no referrals needed and many enjoy the freedom of being able to choose any health care facility or doctor they wish.
How It Works
It works much like auto insurance in that you will pay your health insurance deductible before the insurance company picks up the remainder of your bill. This deductible amount will vary based upon the specific type of health insurance policy option you chose. With a traditional indemnity health insurance plan, you will be billed based upon UCRs or usual, customary and reasonable fees.
These fixed fee amounts are a set amount that the insurance company will pay for a specific disease, illness or medical procedure. You will want to check and see if a medical procedure or fee is covered by your particular type of medical insurance before having the procedure performed. In some cases, these procedures must be pre-authorized by your insurance company.
If in doubt, give your insurance company a call and talk to a representative.
You will then submit this bill to your insurance company, or in some cases the health care provider will submit the bill to your insurance company as a courtesy. The insurance company will then pay its portion of the medical bill less your deductible based on the amount of the UCRs covered under your health insurance plan.
Types of Indemnity Health Insurance Plans
Different types of traditional indemnity health insurance plans are available to you including hospital/surgery insurance coverage, major medical insurance coverage and comprehensive coverage which is a combination of hospital and major medical coverage. Most Indemnity Health Insurance Plans will provide coverage for hospital stays, outpatient procedures, prescription medications, doctor's visits and preventative care.
Where to Buy
If you are an individual who wants the freedom of being able to choose your health care provider and not be restricted to those within a preferred provider organization, then a Traditional Indemnity Health Insurance Plan may be right for you. Many different health insurance companies offer Traditional Indemnity Health Insurance Plans including the following:
Pros & Cons
One of the best advantages of a Traditional Indemnity Health Insurance Plan is the freedom you have to choose the health care facility and provider without any restrictions. One of the downsides to this is that you may have to pay more for your health insurance coverage than if you choose a PPO (Preferred Provider Organization) Plan or an HMO (Health Maintenance Organization) Plan.
There may also be more paperwork involved in filing claims.
Of course, no one can tell you which type of plan is right for you. It is an individual choice you will have to make for yourself and for your family based on your unique health insurance needs and financial situation. You may want to sit down with your family insurance agent and discuss the benefits of each type of health insurance plan so you can make a decision that will give you and your family the best value on a health insurance policy.