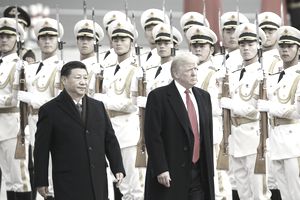 A trade war is when a nation imposes tariffs on imports and foreign countries retaliate with similar forms of trade protectionism. As it escalates, a trade war reduces international trade.
A trade war starts when a nation attempts to protect a domestic industry and create jobs. In the short run, it may work. But in the long run, a trade war will cost jobs and economic growth for all countries involved.
Trump's Trade War
On March 8, 2018, President Trump announced a 25 percent tariff on steel imports and a 10 percent tariff on aluminum. America is the world's largest steel importer. Trump believes the tariffs would protect the 147,000 workers in the U.S. steel and aluminum industries. But they could hurt the 6.5 million workers in industries that need steel. It will also raise costs for steel users, like automakers. They'll pass those costs onto consumers.
The tariff is in effect against China, Russia, and Japan. Trump said Canada and Mexico would be exempt until the NAFTA renegotiations were finalized. Canada is the largest source of U.S. steel imports. Mexico is the fourth largest. Argentina, Australia, and Brazil were also exempted.
On March 26, 2018, the Trump administration exempted South Korea from the steel tariff. The U.S. ally is the third largest foreign supplier of steel. In return, South Korea agreed to amend the 2012 bilateral trade agreement.
The United States will keep its 25 percent tariff on pickup trucks for an additional 20 years. Under the original agreement, the tariffs would have expired in 2021. South Korea agreed to double its import quota for U.S. cars. The United States has a trade surplus with Australia.
Trump delayed the tariff against the European Union until June 1, 2018.
He wants the U.S. ally to cut its 10 percent tariff on U.S. autos. He also asked the EU to set quotas on its steel exports.
Trump said, "Trade wars are good, and easy to win." But the markets disagreed. Stock markets around the world tumbled in fear of a trade war between the world's three largest economies. 
As expected, U.S. trading partners were aghast. The EU said it is considering tariffs on $3.5 billion worth of U.S. exports. European Commission President Jean-Claude Juncker warned, "We will put tariffs on Harley-Davidson, on bourbon and on blue jeans — Levi's." On April 21, 2018, the EU upgraded its trade agreement with Mexico. Once signed, it will remove tariffs from almost all trade between the two areas.
Japan's trade minister said, "I believe there is absolutely no impact on America's national security from imports of steel and aluminum from Japan, which is an allied nation." 
Trump used a 1962 Congressional power that allowed a president to curb imports that threaten national security. The Commerce Department reported that dependence on imported metals threatens the U.S. ability to make weapons. But the Aerospace Industry Council said Trump's tariffs would raise costs for the military and exporters.
 The tariffs could also threaten national security by dampening economic growth. A strong economy is necessary to increase U.S. military spending.
U.S. Trade War with China
On January 22, 2018, President Trump imposed tariffs and quotas on imported Chinese solar panels and washing machines.  China is also a world leader in solar equipment manufacturing. The World Trade Organization ruled that the United States didn't have a case in levying the tariff.
On March 8, 2018, Trump asked China to develop a plan to reduce the $375 billion U.S. trade deficit by $100 billion. China is amenable to the idea. Part of China's economic reform plan is to reduce its reliance on exports. But it cautions there isn't much it can do, since the deficit is fueled by high U.S. demand for low-cost Chinese goods.
On March 22, 2018, the Trump administration upped the ante.
It announced it would levy tariffs on $60 billion of imports from China. The administration also said it would limit U.S. technology transfers to Chinese companies. China requires foreign companies who want to sell products in China to share their trade secrets with Chinese companies. China responded by announcing tariffs on $3 billion in U.S. fruit, pork, recycled aluminum, and steel pipes.
On March 26, 2018, the Trump administration began quietly negotiating with Chinese trade officials. The administration focused on three requests. It would like China to reduce its tariffs on U.S. automobiles. It wants China to import more U.S. semiconductors. American companies also want greater access to China's financial sector.
On April 3, 2018, the Trump administration announced 25 percent tariffs on $50 billion in Chinese imported electronics, aerospace, and machinery. Companies have until May 22 to object. The government has another 180 days before deciding to move forward.
China retaliated hours later. It announced 25 percent tariffs on $50 billion of U.S. exports to China. These also won't go into effect immediately. China's tariffs strategically targeted 106 products. China also penalized two other U.S. exports, sorghum, and Boeing airplanes. It targeted industries located in states that supported Trump in the 2016 election. 
Shortly afterward, China canceled all U.S. soybean import contracts. China imports $12 billion in U.S. soybeans. China needs soybeans to feed pigs, its primary meat staple. But China can replace U.S. beans with those from Brazil. U.S. farmers sell one-half of their crop to China. If that market disappears, it will hurt the United States more than China. 
On April 6, 2018, Trump said he might impose tariffs on $100 billion more of Chinese imports. It would cover just one-third of U.S. imports from China. If China retaliates, that would impose tariffs on all U.S. exports to China. 
On April 10, 2018, China announced that trade negotiations had broken down. The United States demanded that China stop subsidizing the 10 industries prioritized in its "Made in China 2025" plan.  These include robotics, aerospace, and software. China also plans to be the world's primary artificial intelligence center by 2030.  Later that day, Chinese President Xi Jinping announced he would reduce tariffs on imported vehicles. Although it allowed Trump to save face, it wouldn't affect trade very much. Most automakers find it is cheaper to build in China, regardless of tariffs. Other promises, such as reducing restrictions on foreign direct investment, are not new. 
On May 4, 2018, the Trump administration presented China with a list of demands. It asked China to :
End subsidies to tech companies.
Stop stealing U.S. intellectual property.
Cut tariffs on U.S. goods by 2020.
Open China to more U.S. investment.
Reduce the trade deficit by $200 billion by 2020.
These demands are at odds with China's goal of becoming a tech leader. On the other hand, China does want to reduce its trade deficit. China's economic reform plan is to become less reliant on exports. On May 10, China agreed to import more U.S. products.
On May 15, China agreed to remove tariffs on U.S. pork imports. It will also allow Qualcomm to acquire NXP.  In exchange, the United States will remove tariffs on Chinese telecom company ZTE. This agreement supports a mercantilist philosophy. It promotes specific industries that are important for the leaders' political purposes. Pork growers tend to vote Republican, which is why China targeted their exports. The telecom industry is part of China's growth strategy, which is one reason why Trump imposed tariffs. The other is that the company violated U.S. sanctions against Iran and North Korea.
Many countries see Trump's removal of tariffs on ZTE as a weakness they could exploit. They will redouble efforts to find exceptions to Trump's tariffs. Many European countries want to avoid U.S. sanctions on Iran. They may threaten tariffs on U.S. imports as a bargaining tool.
Causes of U.S. Trade War with China
U.S. politicians have long threatened a trade war with America's largest trading partner in goods. A trade deficit occurs when exports are less than imports.
In 2017, the United States exported $130 billion to China. The three largest export categories are aircraft ($16 billion), soybeans, ($12 billion), and automobiles ($11 billion). U.S. imports from China were $506 billion. Most of it is electronics, clothing, and machinery. But a lot of the imports are from U.S. manufacturers that send raw materials to China for low-cost assembly. Once shipped back to the United States, they are considered imports. As a result, tariffs hurt U.S. corporations as well as foreign ones. 
China is the world's No.1 exporter. Its comparative advantage is that it can produce consumer goods for lower costs than other countries can. China has a lower standard of living, which allows its companies to pay lower wages. American companies can't compete with China's low costs, so it loses U.S. manufacturing jobs. Americans, of course, want these goods for the lowest prices. Most are not willing to pay more for "Made in America."
How It Affects You
A trade war would raise prices for imported products right away. Costs would rise by the same amount as the imposed tariff. It would give a competitive advantage to domestic producers of that product. Their prices would be lower by comparison. As a result, they would receive more orders from local customers. As business grew, they would add jobs.
On the flip side, domestic manufacturers that rely on imported raw materials or parts would see higher costs. It would cut into their profitability. They would either have to raise prices, slash jobs, or both. 
In the long term, trade wars slow economic growth. They create more layoffs, not fewer, as foreign countries retaliate. The 12 million U.S. workers who owe their jobs to exports would get laid off.
Over time, trade wars weaken the protected domestic industry. Without foreign competition, companies within the industry don't need to innovate. Eventually, the local product would decline in quality compared to foreign-made goods.