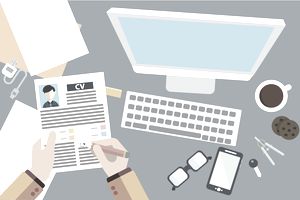 Your resume is your first opportunity to make a good first impression, and you don't have much time to make that good first impression. According to money.com, it takes less than 20 seconds for a hiring manager to make a decision about you based on your resume. Hiring managers need to scan your resume and find the information they need in record time so they can move on to the next resume. What that means for you is that nearly every word you include on your resume can either help get you noticed or knock you out of contention.
Best Words to Use in a Resume
Resume writing is a mindset. Include words and phrases that explain specifically what you accomplished in your previous jobs. The last thing you want to be is vague. Hiring managers are tired of hearing vague, clichéd words like "team player" and "hard worker." Avoid these phrases at all cost.
Also, when possible, use numbers to demonstrate how your efforts benefited your employers. For example, instead of simply saying you "added value to Best Practices PR by saving money," you should say that you "administered a public relations budget of $500,000 and, by developing and implementing an innovative and efficient cost-saving marketing program, you saved Best Practices PR over $10,000 a year for a period of three years." 
Hiring managers also like to see action words in resumes. This is key. Action words demonstrate that you took a leadership role that produced results.
Hiring managers will understand that if you took the initiative at a previous job, you will be a proactive leader for them as well.
Top 15 Words to Include on Your Resume
Here are the fifteen best words to include on your resume according to employers who responded to a CareerBuilder survey:
Achieved: 52 percent
Improved: 48 percent
Trained/Mentored: 47 percent
Managed: 44 percent
Created: 43 percent
Resolved: 40 percent
Volunteered: 35 percent
Influenced: 29 percent
Increased/Decreased 28 percent
Ideas: 27 percent
Negotiated: 25 percent
Launched: 24 percent
Revenue/Profits: 23 percent
Under budget: 16 percent
Won: 13 percent
Top 15 Words to Avoid on Your Resume
Here are the fifteen worst terms or words to use when writing your resume according to CareerBuilder, starting with the term "best of breed," which sounds more like an American Kennel Club dog show winner than a candidate for employment:
Best of Breed: 38 percent
Go-getter: 27 percent
Think outside of the box: 26 percent
Synergy: 22 percent
Go-to person: 22 percent
Thought Leadership: 16 percent
Value add: 16 percent
Results-driven: 16 percent
Team player: 15 percent
Bottom-line: 14 percent
Hard worker: 13 percent
Strategic thinker: 12 percent
Dynamic: 12 percent
Self-motivated: 12 percent
Detail-oriented: 11 percent
Focus on the Skills Related to the Job
By focusing on the skills, results, and accomplishments most aligned to the job you're applying for, you'll have a much better chance of getting called in for an interview. This, coupled with word choice, will get you closer to your next job.
Read More: Resume Skills List
Related Articles: Resume Skills Section | Soft vs. Hard Skills | How to Include Keywords in Your Resume | List of Keywords for Resumes and Cover Letters | Skills and Abilities