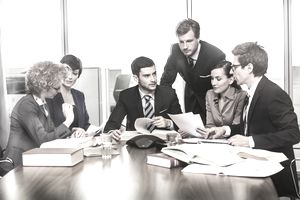 So maybe you are a "Law and Order" junky, watch back episodes of "The Practice" or have heard that a professional degree is mandatory to compete in today's competitive job market. What can you do now to set the stage for a future career as an attorney? Here are 10 keys for students/grads looking to launch a career in the law:
Top Tips for Starting a Law Career
Study hard and compile a record of academic excellence while in college.
However, also recognize that there is a law school for most any decent college graduate since there is a very wide range of competitiveness for admission to different schools.
Consider choosing a major which is intellectually stimulating (so you'll naturally work hard!) and academically challenging. It is not necessary or advisable for most candidates to major in political science (unless you are interested in government law or politics).
Economics is great for those interested in corporate law, psychology for criminal law, biology for health law and computer science/engineering for technology or patent law.
Take a couple of law courses if they are offered at your school to experiment with the type of study required and to test your interest.
Investigate opportunities through your school to participate in moot court activities. Law Schools will see this engagement as evidence of a bonifide interest in the law and separate you from the many applicants who choose law as a default option.
Consider participating in student government since you will gain experience in drafting legislation for your campus.
Volunteer with community-based organizations. Most law schools are interested in attorneys who will spend some of their time advancing the public good.
Demonstrate your writing skills since law is a writing intensive profession.
Do a senior project or independent study, work for your campus newspaper, create a blog and/or choose a writing-intensive major.
Conduct informational interviews with as many attorneys as possible through alumni and family connections to gain a rich sense of the many areas of legal practice. Make sure you confirm some areas of interest or it probably doesn't make sense to pursue a law degree.
Job Shadow a few attorneys in interesting fields to see what it is like to be in their shoes for a few days. It can be fun to go to court and observe proceedings!
Gain some legal experience by interning at a local law firm, legal aid society, public defender or district attorney. Working side by side with attorneys can help you to verify your interest in the field, make valuable contacts and give you a leg up for summer jobs while in law school.
College Graduate Tips
If you have already graduated or aren't ready to attend law school right after graduation, consider working as a legal assistant for a couple of years prior to law school. The pay isn't bad and you will be able to meet many different lawyers and observe their work (even though you may be performing very basic tasks).
If you follow these steps in the years prior to law school you will be more likely to make a sound decision about your legal career and amass an impressive array of credentials for your law school applications.
Legal Skills List
The following is a list of skills employers seek in candidates for legal employment.
A - G
H – M
N - S
T - Z
College Student Job Search Articles and Advice