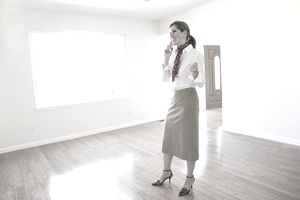 Honesty is important in any profession, but it's paramount in an industry such as real estate. When you buy or sell a home, you're most likely handling the most substantial financial transaction of your life. And unfortunately, the real estate agent industry is saddled with a poor reputation — not unlike that of lawyers or even car salespeople — because some agents don't know the difference between truth and lies.
Part of the problem is the vast numbers of unscrupulous people who figure the real estate profession offers them a fast track to easy money. It's not difficult, in many states, to obtain a real estate license. Professional standards and educational requirements are at a minimum. Any kid over the age of 18 who doesn't have an FBI record in California can get a real estate license, for example, providing the kid takes a couple of real estate classes and passes an exam. Even high school dropouts qualify.
The Trustworthiness of Real Estate Agents
You rarely hear about the honest agents in the news as most coverage is devoted to agent arrests and shady scams. But that's because truthfulness isn't newsworthy. The truth is about 10 percent of the agents do 90 percent of the business, and that top 10 percent are more likely to be the type that buyers and sellers can trust. Many home buyers and home sellers say they want their real estate agent to be honest, ethical, professional and experienced.
As a group of people in a profession, I think the public tends to suspect the integrity of agents because the agents are in sales, and many consumers don't trust salespeople. My belief is agents are more trustworthy than they are given credit for. Agents survive by repeat business as well. They want happy clients, on top of which the Realtor Code of Ethics prohibits unethical behavior.
I've heard buyers say an agent will lie about receiving multiple offers, and that is absolutely absurd. They might say another buyer has an interest, and maybe another buyer does. When the market is "just right" it is possible for a home that has been passed over for months to suddenly be in hot demand. Just when maybe you want to make an offer. Agents don't generally lie about those types of things.
What Real Estate Agents Lie About
Mostly themselves, if you're lucky. Real estate agents often misrepresent their experience and credentials on their websites and/or blogs. Some spend inordinate amounts of time posting online to obtain maximum search engine exposure. Others pay for commercial rights and buy ads to rank above search results in Google and Yahoo. Agents expend this effort and expense to get you to click on their site.
You may wonder, and rightly so, if you can trust the agent's website. Just because it's on the Internet doesn't make it true. I run across hokey real estate agent sites all the time in Sacramento and also nationally. The bottom line is if your agent isn't presenting a truthful picture of herself or himself online, what else is your agent likely to lie to you about?
With a little detective work, you can find out just about anything you need to know about a real estate agent's honesty. You can assess whether agents are puffing or giving you a false picture of their abilities, strengths, and background, which will help you to determine whether you want to hire any of those agents. Here are misrepresentations to look for on a real estate agent's website/blog:
Real Estate Experience: If you can't easily spot a reference to the number of years the agent has been licensed to sell real estate, it's because the agent has none or very little (under five years) experience. The agent may toss other numbers at you such as how long they have lived in the state or the number of years the agent was employed somewhere else. But only one thing counts, and that's solid real estate experience.
 

Tip: Experience is important because it means an agent should be able to anticipate problems and prevent them from manifesting. It also means you're relatively assured that over the years your agent has learned how to handle just about any type of potential difficulty without running elsewhere for advice.
At the time of writing, Elizabeth Weintraub, DRE # 00697006, is a Broker-Associate at Lyon Real Estate in Sacramento, California.