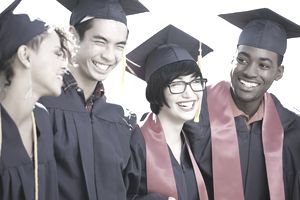 What skills are hiring managers seeking when they are recruiting college seniors and recent graduates for employment? What marketable skills do you have that can help you secure an interview and ultimately a job offer?
Employers are looking for leaders who can also be team players, who can solve problems and communicate, both in writing and verbally, according to respondents to NACE's Job Outlook 2016 survey.
Hiring managers also screen resumes for evidence of a strong work ethic (job and internship experience, solid GPA), and analytical and technical skills. The more skills you can develop while you're in college, the more opportunities you'll have for getting hired for a permanent position after graduation.
Keep in mind that all your college accomplishments - activities, sports, academics, volunteering, jobs, internships, clubs - can help you gain the skills you need for your first post-graduate role.
Top 10 Skills Employers Seek in College Grads
Here's a list of the top skills that the employers who responded to a survey look for on resumes. They are a combination of skills that qualify the candidate for the job and that prepare them to succeed in a professional workplace.
Strong work ethic
Initiative
Flexibility / adaptability
Soft Skills & Hard Skills
Like most hiring managers, employers hiring recent graduates look for candidates with a mix of soft skills and hard skills.
Soft skills are skills required of applicants regardless of the industry; they are personal attributes and social abilities.
Examples of soft skills from the NACE survey include teamwork, written and verbal communication, and flexibility/adaptability.
Hard skills are the more tangible skills you need to succeed in a particular job or industry. Technical and computer skills are examples of hard skills that employers look for in recent graduates.
More In-Demand College Grad Skills
Detail-oriented
Friendly / outgoing personality
Tactfulness
Many of these skills are similar to the top skills employers want in the employees they hire for most jobs. Being a team player, having strong communication and interpersonal skills, and being able to analyze data and knowing what to do with it, are all important to hiring managers.
Here are more of the top skills employers seek in job applicants. In addition, here's a list of college major skills you can use to connect your education with the skills required for the job.
Tips for Including Skills on Your Resume
Hiring managers review many resumes and it can be hard to differentiate between candidates when most of them have basically the same set of qualifications.
Help your application stand out from the crowd by including a mix of experiences that highlight a blend of the most sought-after hard and soft skills on this list of in-demand skills.
Also be sure to list the skills you have that the employer has noted as "required" or "recommended" in the job posting. The closer you are to a match for the job, the better your chances of getting chosen for a job interview.
Set Up a Skills Section
You can include some of your skills in a "Skills" section of your resume, in which you list your skills that relate to the particular job.
Emphasize Your Skills in the Experience Section
In the "Employment" or "Experience" section of your resume you can also emphasize particular skills you gained or developed at your previous jobs and/or internships.
Match Your Skills to the Job
Wherever you decide to place your skills on your resume, be sure to tailor your list of skills to the particular job.
Use keywords listed in the job description to ensure your resume is a strong match.
If particular hard skills are required for a job (such as knowledge of a specific software program) be sure to explicitly list those skills on your resume. You can find even more resume writing tips here.
Read More: Job Outlook: The Candidate Skills/Qualities Employers Want (NACE)
Related Articles: How to Answer Interview Questions About Skills | What to Include in a Resume Skills Section | Lists of Skills
Note: 201 hiring managers were asked which skills or qualities they look for in a college graduate's resume.