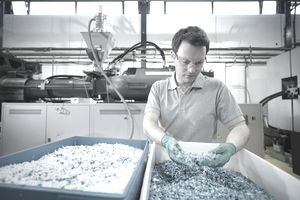 Plastic recycling is one of the fastest growing sectors of the recycling industry, with growth fueled by its value as a scrap material as well as legislative and social efforts to divert it from landfills.In this article, we present some of the top plastic recycling related news and magazine sources with in-depth analysis of latest events, technologies, legislation and public policy. Also, don't forget to check out our other articles that list top recycling publications, as well as the top recycling publications for the electronics recycling sector.
Resource Recycling Magazine
Resource Recycling publishes "Plastics Recycling Update Magazine" both in print and online version. This magazine covers latest plastics recycling news, in-depth analysis along with featured articles by industry experts.
Plastics News
Plastics News is a leading plastics industry information source, covering the plastics industry, including plastic recycling.
European Plastics News (EPN)
European Plastics News covers both general plastic industry and plastics recycling news for European plastics manufacturers and recyclers. The EPN website publishes the leading European plastics magazine that features plastics recycling news, articles and analysis along with news for plastic manufacturers. Although, EPN's main target group of readers is European plastics manufacturers and recyclers, plastics recyclers from other countries can have helpful information from this site.
Plastic and Rubber Weekly (PRW)
Plastics & Rubber Weekly (PRW) is a top source of plastics recycling magazine for the businesses and entrepreneurs participating in the UK polymer industry. Every week, PRW publishes the latest plastics recycling related news while providing in-depth analysis of industry issues such as changes in regulations and emerging technologies.
The PRW website has a range of features to inform plastics recycling businesses and entrepreneurs about the basics of the industry like plastics knowledge, industry issues, and processes, as well as a business directory. The PRW e-newsletter is published regularly, and anyone can subscribe it by visiting the PRW website.
American Chemistry Council
The American Chemistry Council has a special section for plastic recycling related publications, including reports and research papers. These materials are especially useful to entrepreneurs who are planning to start their plastic recycling businesses with new opportunities created in the current market. The website provides information on other areas of plastic recycling such as definition and uses of plastics, the life cycle of plastics, and plastics statistics.
CPIA News
CPIA refers to the Canadian Plastics Industry Association (CPIA). It has more than 2,400 member companies across Canada. The association's website has a special news section for both Canadian plastics and plastics recycling businesses and entrepreneurs. The CPIA news is one of the top sources of plastics recycling news for Canadian plastic recyclers.
Moore Recycling Publications
Over the last 24 years, Moore Recycling Associates Inc.
has been helping businesses and local communities to recover post-consumer plastic packaging through continuous research and developments in the plastic recycling industry. Core publications of Moore Recycling include research reports, videos, and multi-media presentations. Therefore, Moore Recycling can be a good source of plastic recycling related information.
Alberta Plastic Recycling Association (APRA) News
Alberta Plastic Recycling Association is the sole industry trade association for plastics recyclers in Alberta. The APRA website news section is a good source of plastic recycling related news. Basically, APRA posts headlines of top recycling news published on other sites online with links to those news stories.
Technical Resources by APR
APR refers to The Association of Postconsumer Plastic Recyclers.
APR is North America's top trade association for post -consumer plastics recycling businesses. APPR's website has a special section for technical resources which include APR design for recyclability, testing, critical guidelines, applications guidelines, model bale specifications, life cycle inventory study and sleeve levels. These technical resources can be of great help for both current and new plastics recycling businesses and entrepreneurs.