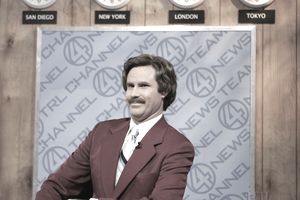 Grab the popcorn and settle in on the couch. From the hilarious comedies to those that take a serious look at some of the biggest scandals reporters have uncovered, every media pro should see these top 10 media movies:
Anchorman: The Legend of Ron Burgundy
If you work in the media, you have to be able to rattle off movie quotes from Anchorman: The Legend of Ron Burgundy. Set in the 70s, we watch the most-respected news anchor in San Diego and the rest of the news team as they struggle to accept the new hire in the newsroom: a woman.
It's not meant to be a serious look at the newsroom and its many personalities, but when you watch it, you'll easily be able to spot the Ron Burgundy, Brian Fantana, Champ Kind, Brick Tamland and Veronica Corningstone at your station.
All the President's Men
The story of Carl Bernstein and Bob Woodward isn't just a movie you should see, you should also buy it and the 1974 nonfiction book it's based on. Bernstein (Dustin Hoffman) and Woodward (Robert Redford) are reporters for The Washington Post who begin investigating what would become the Watergate scandal. This gripping story of anonymous sources, an in-depth investigation that leads to the highest political office, reporters who don't necessarily want to share the story, and the risks media pros have to take to uncover the truth will keep you on the edge of your seat. It's a thrilling portrayal of these two reporters' lives and how you never know how one news assignment can become the story of your career.
Broadcast News
Although Broadcast News was released in 1987, it's still a movie that even today's young media pros should see. You may get a kick out of seeing the antiquated TV equipment but you'll also get a good look at what it takes to put on a newscast, the competition within a newsroom and the effect a reporter can have on his co-workers and the viewers when his involvement in telling the story becomes more of a showbiz stunt to boost his career.
Shattered Glass
Based on the true story of reporter Stephen Glass, Shattered Glass is one of those movies that reveals the pressure to be the best in the media industry and just how much that desire to be the best can push you. This intense look at Glass's career, in which it was found he fabricated part or all of 27 of his 41 articles, features an outstanding cast. The movie is disturbing, not in a psychotic killer sort of way, but in the way that we can identify with Glass's pursuit to be a star reporter, start to understand some of his decisions and then feel both outrage and sympathy for him from the fallout as his career comes crashing to an end. 
Nightcrawler
Nightcrawler isn't your typical movie about the media world. It's a dark look at what happens when a freelance crime journalist crosses the line from covering news to becoming involved in the news. The critically-acclaimed indie flick digs into the deviant side of the news business, where people armed with scanners looking to make a buck video crime scene footage to sell to the highest bidding TV station.
Citizen Kane
It's been more than 70 years since Citizen Kane was released but this movie still holds its place in the top 10 of media movies you have to watch.
Not only was it Orson Welles's first feature film that he also co-wrote, starred and directed, it has won numerous awards over the years. Citizen Kane looks at the life of fictional character Charles Foster Kane, who went from loving newspapers as a way to deliver people the news they deserved to know to using newspapers as his own powerful resource to control his mysterious world. What makes Citizen Kane, a loose portrayal of newspaper tycoon William Randolph Hearst's life, particularly interesting is how Hearst himself became involved in the movie. He forbade any of his newspapers to even mention the movie when it was released.
Talk Radio
Talk Radio is one of the most chilling media movies because it's partly based on the assassination of radio host Alan Berg. In the movie, Barry Champlain portrays a local talk show host in Dallas, Texas, who is about to have his show go national mainly because of his strong political views and quick wit that can shred his audience's extreme opinions.
Of course, this angers his listeners and riles them up even more. But Champlain doesn't back down. He is no stranger to hateful calls on the air and threats on his life but he continues on, determined to be himself and get his show to a nationwide audience. Ultimately, the movie takes a hard look at how much you can impact your audience and how much your audience can impact you.
Good Night and Good Luck
Just what is the media's responsibility? That is the question tackled in Good Night and Good Luck, the George Clooney-directed movie about reporters Edward R. Murrow and Joseph Wershba as well as producer Fred W. Friendly's stand against U.S. Senator Joseph McCarthy and his controversial accusation that Murrow was a communist. The movie is set in 1953 when TV news was still in its infancy but it sets a pivotal tone of how the CBS reporters didn't bow to corporate or sponsorship pressure to bury a story that exposed McCarthy and put an end to his political career.
The Paper
If you long for the days when you could yell, "Stop the presses!" to prevent news from being spread, then you'll want to see The Paper. The events take place over 24 hours when the top story is the murder of two businessmen by a couple of boys. It's not an earth-shattering look at journalism but it does look at good reporting and the hunt for finding the facts of a hot story, the pursuit of getting the scoop, and the fallout from finding evidence that no one wanted to be discovered in a time when newspapers weren't accused of being a dead form of journalism.
Morning Glory
Every producer who has struggled with ratings pressure and getting big-headed anchors to do their job will be able to relate to morning show producer Becky Fuller's troubles. Not only has she been put in charge of a morning show that no one is watching, she's fighting with co-anchors who despise each other and would rather sit in their office doing nothing than sitting on the anchor desk to do their jobs. Even though Morning Glory's a little cutesy with the happy ending you would expect from a romantic comedy, watching the producer figure out how to get the show ratings results and seeing the inner workings of a morning show in turmoil are worth watching at least once.