10 Insurance Companies That Care About Customer Purchase Experience
J.D. Power Insurance Consumer Purchase Satisfaction Rankings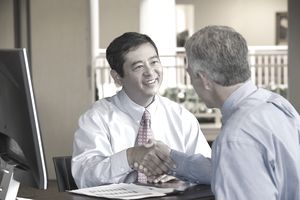 Each year, J.D. Power & Associates, a global market research firm, publishes its U.S. Insurance Shopping Study which ranks how insurance companies compare based on the consumer's purchase experience satisfaction. The study, now in its 10th year, considers three factors when surveying insurance customers including price, distribution channel and policy offerings.
Key Findings
Today's insurance consumer is leaning more toward digital shopping to find insurance rather than the traditional independent insurance agent.
Insurance companies leading in the online quote experience will experience the most growth in new premium dollars written. The study determined that 74 percent of new customers purchasing insurance will use online shopping comparison websites or an insurer website to obtain a quote. In contrast, only 25 percent of those obtaining a quote online will purchase through the website while 50 percent of these customers will purchase their policy at a local agent's office. Young shoppers (Gen X and Gen Y) are the ones most likely to only get insurance quotes online. Overall customer satisfaction with the purchase experience is down. In 2016, the median customer satisfaction rating for the overall customer purchase experience was 826 out of 1,000; down from the 2015 rating of 833 out of 1,000.
10 Insurance Companies With a 4- or 5-Power Star Rating
Erie Insurance and Liberty Mutual Insurance tied for first place in the highest customer satisfaction purchase experience.
Notably, Erie Insurance has ranked first for its 4th consecutive year. The Hartford came in with a 3rd place ranking, American Family Insurance was 4th and coming in at 5th place was Automobile Club Group. All of the companies listed below had either a 4- or 5-star rating based on a 5-star system. A 5-star rating denotes insurance companies who are among the best in the industry while a 4-star rating indicates insurance companies that are better than most.
Erie Insurance: 5-star rating: Erie Insurance consistently ranks in the top few companies for customer satisfaction with organizations including J.D. Power & Associates and Insure.com. In 2012, Erie Insurance was named the "customer service champion" by J.D. Power & Associates. In addition to superior customer service rankings, Erie Insurance also has an "A+" superior rating from A.M. Best and is named in the Ward's top 50 performing property and casualty insurers. Erie Insurance offers auto, homeowners, life, property and liability and business insurance as well as retirement products.
Liberty Mutual: 5-star rating: Liberty Mutual has been established for over 100 years and is the 3rd largest property and casualty insurer in the United States. Liberty Mutual's insurance products include auto, homeowners, workers' compensation, commercial auto, and group disability insurance among others. Liberty Mutual has consistently high ranking in financial strength and customer service. Liberty Mutual has an "A+" rating with the Better Business Bureau.
The Hartford: 5-star rating: The Hartford was established in 1810. It offers personal and business insurance products throughout the United States and is a leader in corporate responsibility as well as having excellent financial strength and customer service ratings. The Hartford was named as one of the world's most ethical companies by The Ethisphere for the years of 2008-2012. According to a 2012 survey by Insure.com, 91 percent of customer's planned to renew their insurance policies through The Hartford.
American Family: 4-star rating: American Family is the 10th largest auto insurer in the United States. American Family offers auto insurance, home, life, health, business, umbrella, farm and ranch insurance and also retirement products in 19 states. In addition to receiving top ratings in the customer purchase experience, American family was also rating excellent in the area of claims service. The company has an "A" financial strength rating with A.M. Best.
Automobile Club Group (AAA Insurance): 4-star rating: Automobile Club Group provides auto insurance to its members as well as discounts on travel, prescriptions, rental, movies and more. Its emergency roadside assistance service is among the best in the industry. AAA excels in traffic safety programs and established the AAA Foundation for Traffic Safety in 1947. In addition to auto insurance, AAA also offers homeowners, life, health, and other financial services. AAA has 51 independent motor clubs location through North America with more than 51 million members. It has an "A+" rating with A.M. Best and consistently ranks in the top of customer satisfaction surveys across the industry.
There are many factors to consider when finding the right insurance to protect you and your family including price, customer service, financial stability and claims satisfaction. To help in your search, organizations such as J.D. Power & Associates and A.M. Best provide you with rankings showing how each company compares in different areas of service. Insurance comparison websites can also give you a side-by-side comparison of policy offerings and pricing to help you make an informed decision when trying to find the best value in insurance. There are many great insurance comparison shopping websites out there including NetQuote, CoverHound and Compare.com.