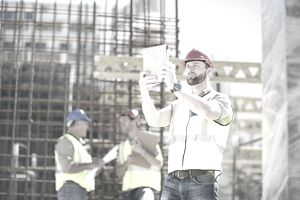 What makes an iPad different, compared to PCs? Yes, it's a slim one-piece screen that you can switch on and off in the blink of an eye, but there's more. An iPad like its smaller cousin the iPhone and like other tablets also has:
Touchscreen capability for finger-driven manipulation
A camera for taking photos that can be stored and processed in the iPad afterwards
GPS capability to display and use exact geographical location
A built-in sensor (accelerometer) that detects when the iPad is tilted.
In addition, the legendary ease of use of the iPad makes it simple for those who feel more at home driving a backhoe rather than sitting in front of a conventional computer, mouse and keyboard. So rather than (just) listing construction management software that you might access via an iPad or a PC, we start our list with applications that leverage the things that put the iPad in a class of its own.
Software using the iPad touchscreen capability
Try FingerCAD, the CAD application for technical drawing with fingers. If you feel the urge to create a vision of a new building, extension or remodeling project, you can start work right away with your computer-assisted fingers. Save the design afterwards for emailing to customers for example.
 
CAD Touch offers similar on-site, on-the-go drafting possibilities to make floorplans, chart land surfaces, design homes or office blocks, and so on. Currently at $10.99, it's a little pricier than FingerCAD ($5.99), but both are still eminently affordable.
Software using the iPad camera
The Newforma Punch List app lets you not only record problem areas by describing them, but also by taking photos of them. Forget the separate-digital-camera-transfer-to-PC-then-mix-with-MS-Word approach; this app does it all in one go.
Software using the iPad GPS
Similar to the Newforma Punch List app above, Onsite:AEC also lets users take photos, write notes, create field reports, and send any or all of these items to others, all directly from a construction site. Onsite:AEC also uses the iPad GPS functionality to import information automatically, such as addresses and current weather conditions on the site.
Software using the iPad accelerometer
sightLevel Pro is designed to give users the functionality of a virtual laser level. It uses the accelerometer and the camera to determine slopes: just center the bubble in the level by tilting the iPad and look for the horizontal red line.
Software using the Rest of the iPad
This opens the door to countless apps, some purpose-built for iPads in the construction industry and others that happen to be useful to builders and developers too. Here are five more construction apps that have achieved considerable popularity with iPad users, a sure sign of their high quality overall:
BuildCalc is a multipurpose construction calculator with a host of possibilities. Users can perform calculations for pitch, rise, run, diagonal right angle, rectilinear and cylindrical areas and volumes, arcs, circumferences, and segments. Oh, and arched rake-walls, in case you were wondering…
 
BIMx is an interactive 3D app for users to access building models, but without having to be BIM experts. You can use it as presentation tool for designs and as a way for partners, subcontractors, customers, and project sponsors to explore a construction before it is built.
 
Architect's Formulator provides hundreds of formulae for assisting with calculations for electricity, carpentry, and plumbing. From concrete and excavation to soil filling and swimming pools, this app is unlikely to disappoint.
 
Fast Concrete Pad Calculator calculates cubic yards and linear feet of rebar (reinforcing bars). In true mobile app style, it just does one thing (concrete) and does it well. Also, at $0.99, it is unlikely to be beyond the budget of any contractor, big or small.
 
Carpenter's Helper will help you out with decking, fencing, framing, roof pitch, rafter lengths, and more. You'll need the Pro version for all of this ($14.99), although Lite and Normal versions are available too.