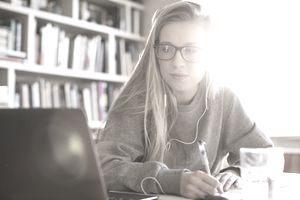 February is College Financial Aid Awareness Month. While that may not seem like much of a reason to celebrate, especially given the pressure many families are experiencing to finish the FAFSA, maybe it's time to give financial aid a second look. Just think about how unrealistic achieving a college education would be without it. Believe it or not, your federal and state governments, as well as colleges, want you to afford to go to college.
Qualifying for financial aid can be complicated and frustrating at times, but it will be worthwhile when that college diploma is in hand. To achieve your goal of obtaining the best education at the lowest cost possible, here are some timely tips in honor of Financial Aid Awareness Month.
Master the FAFSA
This is the key to the golden treasure chest of financial aid. The National Association of Student Financial Aid Administrators (NASFAA) recommends that you apply early, apply online, use the IRS Data Retrieval Tool (DRT) and avoid some of the most common mistakes.
Don't Be Afraid to Ask for Help
Federal Student Aid (FSA) does want students and their parents to be successful in completing the FAFSA. They have an extensive list of FAQs available online. You can also live chat on the web, call the Student Aid Information Center toll-free at 1­800­4‐FED AID (1‐800‐433‐3243), or attend a free FAFSA event in your area.
Learn About Student Loans Before You Apply
One of the biggest mistakes many families make is not looking down the road, especially when it comes to student loans. They don't realize how much they have accumulated in federal student and parent loans, and add private student loans on top of them. There is no thought put into making sure the student can graduate on time with a degree that will afford a sufficient income to repay the loans.
Then there is a great deal of worry about what to do, when it is often too late to make any changes. Learn as much as you can about student loans before you apply, and make smart decisions about how much you borrow.
Keep Hunting for Scholarships
Many families do a great job of searching for scholarships while their student is in high school but then fail to follow-up once the student is in college. This can be costly in terms of lost opportunities. There are any number of substantial scholarships that are available only to college students and it would be a shame for your family to miss out on any of them. Keep looking online and make sure your student asks the college if there are any scholarships available for his or her specific area of study. This could help reduce your out-of-pocket costs by a huge amount.
Get a Head Start
Many of these tips seem like they are for parents of high school seniors, but they also apply to parents of high school juniors. There are some big changes ahead in the financial aid timeline, not the least of which is that FAFSA is now online beginning October 1. Parents of current high school juniors will do well to take these tips and familiarize themselves with financial aid now.
It may seem like a strange observance but, if your family does qualify for financial help, you will definitely want to celebrate Financial Aid Awareness Month.