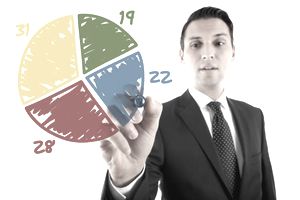 You'll find a lot of advice online saying that everyone should have more than a traditional resume. Video resumes, infographic resumes, career-focused websites, and online portfolios can all supplement your resume and help boost your employment prospects.
However, before you spend a lot of time working on a non-traditional resume, consider the pros and cons and whether you really need one. Taking the time to investigate what is involved is especially important if you are technological challenged and it's going to take you significant time, energy and effort to get up to speed with the tools you need to create an online resume, portfolio or website.
Here are tips and advice for using a non-traditional resume, including deciding on whether it will help you or whether it won't make a difference in the outcome of your job search.
Tips for Using a Non-Traditional Resume
Consider Your Industry. Before creating a non-traditional resume, really think about whether or not the resume will benefit you in the job market. Are there skills you have that only a nontraditional resume will emphasize? Do you want to show recruiters your creativity and innovation? If so, a nontraditional resume may be right for you. However, if you are in a more conservative or traditional industry that does not require much skill in visual arts, you may be best sticking with the traditional resume.
Follow the Job Application Guidelines. Follow the guidelines on the job application and be sure sure to comply with the company's application directions. If they ask for a traditional resume, give them one.
If they ask for a resume in a particular format (a Word document or a PDF, for example), make sure your resume complies with that format. Job seekers who do not follow directions are immediately weeded out of the applicant pool.
Always Have a Traditional Resume Ready. Even if you have a video resume or a social resume online, always give an employer a traditional resume as well.
This way, if they do not care to look at your non-traditional resume, they will look at your traditional resume instead of simply throwing out your application. Even companies who like non-traditional resumes will often ask for a traditional resume to accompany your video or online profile.
Share Your Resume With Your Contacts. Use your non-traditional resume when you have a personal contact. If you have a personal contact with the recruiter or hiring manager at a company, you can feel more confident providing a non-traditional resume. Because you know that your contact will look at your resume, you don't have to worry about the resume being rejected because of the format (however, if your contact specifically asks for a traditional resume, give her a traditional resume!).
Promote Your Non-Traditional Resume on Social Networks. Post a link to your non-traditional resume on your Facebook, Google+, Twitter or LinkedIn account, or any other social or professional networking sites you belong to. They are a great way to grab someone's attention. Who knows - someone may check out your resume website or watch your video, and reach out to you as a networking contact.
Do it Well or Not at All. When a non-traditional resume is done well, the applicant comes across as creative and innovative.
When a non-traditional resume is done poorly, the applicant comes across as unprofessional and sloppy.
Therefore, only create a non-traditional resume if you have the skills to make a polished final product. For example, if you aren't comfortable with a camera, don't do a video resume.
If you are really set on creating a non-traditional resume but lack the necessary film, web, or design skills, there are a number of companies you can hire to help you create your dream resume. However, many of these companies demand high fees, so do your research before hiring a company.
Read More: Non-Traditional Resumes | Types of Resumes | Resume Examples