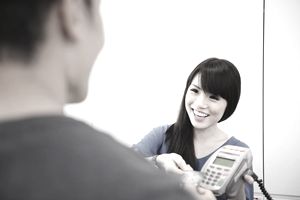 There are many small, inexpensive (and often free) ways to show your customers how much you appreciate their business. Of course, great food and service is paramount for successful customer appreciation; however, personal attention, especially by the owner or manager can go a long way in making customers feel appreciated. Read on for tips on how to make every customer feel like they are a VIP.
Personal Attention
Don't be afraid to go up to tables and introduce yourself and ask how their meal is.
Customers will feel very special that they owner took the time to check on them. You don't need to have a lengthy conversation with each table (many customers would much rather you kept it short). Just give a brief introduction and tell the customer if they have any problems, to let you know.
Get to Know Your Regulars
Regular customers are the backbone of any successful restaurant. Get to know their names, spouses name, kids name. Ask about what they do for a living. If you have a regular who comes in to watch every baseball game on the pub TV, then talk sports (you can fake an interest in sports, I have proven this many times). Show the customer that you enjoy seeing them (not just their wallet) and make them feel at home.
Address Problems Immediately
Inevitably you will encounter customer complaints. Don't shy away from them. Instead, acknowledge the problem and offer some type of solution, whether it is a rain check for running out of dessert or a free round of drinks because the service was slow.
It's also important to handle customer complaints online as well. If you get a complaint via your Facebook page, reach out to the person directly. Don't ignore it or worse, delete it. Taking the time to address a complaint directly can have a huge impact on what that person says about your restaurant, and word of mouth is still the most powerful advertising.
Freebies 
Once you have established a solid customer base, you can offer an occasional free drink, dessert, maybe even a meal to a regular customer. It doesn't have to be done a regular basis (that would defeat the purpose of charging people to eat at your establishment). However, giving a free appetizer to a favored bar patron is one of the best ways to show good will toward customers.
Set an Example for Your Staff
Your staff will follow your lead. If you are friendly and charming to the customers, then your staff follows suit. Lead by example, so that when you are not present, your customers will still receive the same five-star service they have come to expect. Part of being a good leader is showing your staff you appreciate them. There are many ways to do this,from giving bonuses to simply asking how their day is going.