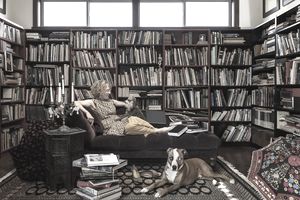 The average American house has fewer books in 2017 than it did 30 years ago. Back then, the average home had 200 books. Today, that number is closer to 20. Due to technology like the Kindle, e-readers, eBooks, and digital downloads, reading material doesn't take up as much room as they used to. But that doesn't mean books don't sell. People who love books will always love books. There is just something appealing about cuddling up with a hot beverage, a book, and the family pet an spending an hour or so focused on words on a page.
Books are great sellers on eBay. Here are come current statistics about the book market on eBay:
eBay has over 3.5 million fiction books listed in good used condition
eBay offers 1.8 million fiction books in new condition
There are over 2 million children's books on eBay
eBay shows over 11 million textbooks and educational books for sale
So, now you are maybe a little more interested in learning about what books you may have in your home that could be good sellers on eBay? You may have some eBay gold hiding in your home and not even realize it. 
Don't Bother With Mass Produced Fiction
The rule of thumb for selling books is:
"Anything that is stacked 25 high at Costco will not be a good seller on eBay."
Why? Because a large supply means there isn't much demand. Books by popular authors like John Grisham, James Patterson, Stephen King, or Danielle Steele usually don't sell for much on eBay. This isn't to say these people aren't brilliant writers, they certainly are.
But because fiction books are mass produced, they just don't have much value on eBay.
Bibles Are Great Sellers
The best kinds of books to sell, those that hold their value, are non-fiction. For example, bibles are great sellers. One reason is that some bibles have beautiful leather covers or family histories written in them.
People buy them not only for their religious use, but also for historical value or for home decorating. And some people actually collect bibles and are always looking for beautiful pieces to add to their collection. 
Here is a great insider tip for when you are sourcing for used bibles to sell. Flip through them and look for cash. People used to hide money in their bibles thinking that if their house was burglarized, the thief wouldn't look inside a bible for money. Some of these old bibles are now being donated to thrift stores when homes are being downsized, or when a parent dies. So take a look inside bibles when you are roaming around the Goodwill store searching for items to sell.
Textbooks and Homeschool Supplies
If you have a child in college, or you are in college yourself, you know how expensive text books are. Especially if you have to buy them new. eBay is a place where you can recover some of the initial investment in text books. Other non-fiction text books that do well include:
Review for SAT, ACT, or LSAT
Nursing Certification
Real Estate Certification
Cliffs Notes
Hooked on Phonics
Teachers Manuals
Homeschool supplies also are good sellers. eBay shows 11,000 results for "homeschool supplies." Items like curriculums, workbooks, planners, dictionaries — just about anything home school related is a great seller.
And people don't mind that the items are used.
Magazine Back Issues
Before you throw out those stacks of magazines, check eBay for their value. Magazines don't have to be vintage or collectible to have value. Environmentally conscious and frugal people buy them cheap and don't care if they are a few years old. Some people buy them to use for crafts like decoupage, school projects, or just to let the kids cut pictures out of. 
Some magazines with celebrity covers can go for twice the cover price even if they aren't very old. For example, some magazines with Taylor Swift on the cover sell for over $50 on eBay. Kate Middleton covers are also popular. And don't forget former teen sensation Justin Bieber as some of those are collectible. 
Magazines can be sold in lots if they aren't worth much individually.
Unfortunately, magazines cannot be shipped media mail because they contain advertising. But you can fit a few into a padded flat rate mailer and ship for about $7 to anywhere in the United States. Or, magazines can be shipped at a cheaper parcel select rate through USPS.
The Weird, Unusual, Hard to Find, or Specialty Niche Book
If mass produced books are in plentiful supply and not worth much on eBay, it stands to reason that a rare or unusual book would be worth money. This assumption is correct. Rare does not always mean old. Books written for a very specific niche audience are going to be worth more than something produced for the masses simply because the less there is of an item, the more it is worth. Here are some examples of niche topic books and what they sold for:
How to Build a Strip Planked Boat $18.56
When You are Expecting Twins, Triplets, or Quads $19.81
Cooking for Diabetics (in Russian) $17.50
Birdwatching in Maine $23.18
Ecology and Management of the North American Moose $43.80
52 Amazing Card Tricks $19.99
History of Interior Design $33
Frank Lloyd Wright Architectural Forum $335
Sixties Motor Racing Photography $250
The Millionaire Pool Man — How to Make a Million Dollars Servicing Pools $187.50
You can see the themes here — hobbies, specialty cooking and diet, religion, specific animals, travel, design, architecture, and how-to books sell well because their focus is so narrowly defined and the audience is smaller. Just remember, scarcity means higher profit. 
So before you haul off all those old books in your effort to downsize, spend a little time on eBay to see what they might be worth. Books are not dead. Plenty of people still collect books and enjoy the old fashioned way of reading by holding the actual book and turning the pages one at a time.