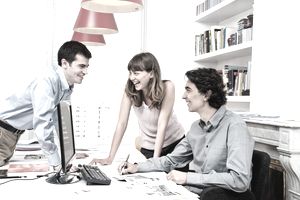 Are you getting ready to graduate from college, are you a recent grad ready to settle into that first entry level job, or are you considering a mid-life career change? Do you need a little help in getting started?
Job Search Tips for College Grads
If you are a college student or alumni, regardless of when you graduated, the first step is to visit, call or email your institution's Career Office. The staff will be eager to help you through every step of the job search process.
This will include self-assessment (figuring out the role your skills, values and interests will play in your work related choices), exploring career options to decide what you want to do, writing a resume and cover letter, and then finding the perfect job.
Your career office can also put you in touch with other alumni in your field who can offer assistance in a variety of ways, like informational interviews, job shadowing, and networking.
Career Office Services
Most career offices will provide you with personal career counseling, job and internship listings, employment programs, career resources, and other services available for both students and alumni. If you're not affiliated with a college or university check with your state's Department of Labor to see what services they provide for job seekers.
Starting a Job Search
The next step is to get going on a job search. According to recent surveys conducted by NACE (National Association of Colleges and Employers) employers continue to predict an increase in both the number of job opportunities and the starting salaries for graduating seniors.
Employers canvassed in the survey stated they will be seeking candidates from a variety of majors including liberal arts in addition to technology and business majors, which are at the top of the list.
For college students about to enter the workforce there are a variety of jobs sites dedicated to entry level jobs.
Resources include jobs, resume posting, and job search and career advice.
Changing Careers and Starting Over
Remember, too, that it is never too late to begin a new career. Many graduates will take a year or so off after college before looking for a "real" job. Here are 15 things that you can do that will add value to your resume prior to setting down into a traditional position in the workplace.
There are plenty of stay-at-home moms who wait to enter or re-enter the workforce until their kids are grown. Review these tips for stay at home moms who want to go back to work.
And don't forget mid-life career changers and retirees who start a second or third career in their later years!
The days of have one job are long gone. In fact, the average worker changes positions 10 - 15 times during their working life. So, don't hesitate to think about what you might want to do the next time around.
What to do next: How to Land Your First Job After College | How to Start a Job Search