Three More Stock Screeners For Finding Great Stocks
Use these screeners to find the exact stocks you want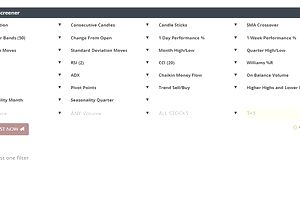 Stock screeners, also called stock filters, are a valuable tool ​to traders of all types. A stock screener filters the vast universe of stocks down to a manageable size, by providing you with stocks that only meet certain criteria you specify.
In Best Free Stocks Screeners to Find Day Trading Stocks we looked at three stock screeners for you to check out. In this article, we look at three more. Which ones you choose to use will depend on what you are looking for.
Some of these screeners are better for finding stocks based on fundamentals, while others focus more on technical criteria and indicators. One of these screeners even finds seasonal patterns in individual stocks, providing a steady stream of trade ideas. 
Stock Rover allows you to build custom screeners to find stocks based on loads of fundamental, and a few technical, criteria. There are also a number of pre-built screeners, such Dividend Growth, Large Cap Value and Small Cap Rockets. Nearly all the features on the screener are free, although you can upgrade to a $249.99 yearly membership and receive enhancements like improved watchlists, 10 years of historical data instead of 5, more screener options, alerts and more.
You can also type in any stock and have it analyzed based on criteria of your choosing. The stock/company is then compared to its peers, highlighting whether the stock is strong or weak in its peer group.
There are also graphs which show how the company is performing now relative to the last five years. These graphs can be created for a large number of criteria.
This stock screening site commenced operations in 2015, and new features are continually being added. This site offers loads of technical screening criteria, and every criterion is customizable, making for a truly personalized screening experience.
If you want to find stocks based on very precise technicals or indicators, this site can find them for you. Screen for stocks in the US or the UK.
There is a learning curve to using the site at first--if you want to customize everything yourself--but it is an easy site to navigate once you know the basic operations. For those seeking a basic technical screener, the pre-set screening options make it easy to create watchlists and run quick scans. You can also backtest strategies as well as set alerts.
The site is $14.99 per month, although a 7 day full-feature trial period is offered to test out the site.
PastStat is another highly versatile stock screener with backtesting capabilities. Filter stocks based on price action, performance, technical indicators and seasonality.
One very interesting feature is that you can scan stocks to find patterns which would usually be obscured. These are individual stock seasonality patterns, such as a stock tending to rise between January and March. See stats on how the trade idea performed historically. This type of "data mining" technology is not normally provided for free, yet it is part of the free screening package on PastStat.
PastStat provides a lot of screening tools and features to free members, but some are reserved for paying members. There are a number of payment options available including a $24 monthly, or $192 yearly, payment.
Final Word on Stock Screeners
Stock screeners continue to advance, becoming more and more sophisticated all the time. These are advanced stocks screeners, each specializing in something slightly different. StockMonitor focuses on highly customizable technical criteria, such as price action and indicators. Stock Rover focuses on customizable fundamental filters, such as historical EPS, dividend growth, and other fundamental factors. PastStat looks at technical criteria but also scours stocks for seasonality patterns.
Traders will often find that one stock screener fulfills most of their demands, but possibly not all.
Therefore, it is sometimes necessary to utilize more than one stock screener and use them in conjunction with each other.