5 Things You Should Look for in a Savings Account
Not All Savings Accounts Are Created Equally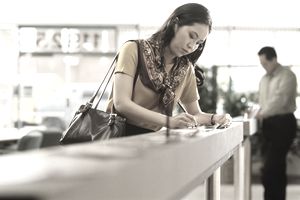 Savings accounts are one of the oldest and most traditional financial products in the United States. It is often a rite of passage for a child to be brought down to the bank by a parent or grandparent to open a passbook savings account with money received from chores, a first job or birthday gifts. For many people, the savings account is the very first introduction they have to the world of personal finance and money management.
It is that familiarity that often makes it easy to select a savings account without much thought. It is a mistake to do that. When it comes to savings accounts, should be just as demanding about finding a product that fits your needs as you would when investing in an annuity or selecting a stockbroker.
Here are five things to think about when you open a savings account for yourself or a younger family member. 
A Good Savings Account Should Have Few or No Fees
The purpose of a savings account is to keep your cash parked safely away until you need it. It's the perfect option for your six-month emergency fund. Unfortunately, some banks try to treat these easy accounts like piggy banks, shaking their customers down for a variety of fees that can cut into your ability to save. There are fees for low balances, fees for inactivity, and even fees for using checks. 
Don't accept it. There are plenty of banks out there that are happy to have you as a client.
Consider transferring your savings accounts to one of these institutions, instead.
One of the latest trends in banking is the emergence of online-only banks such as Ally or CapitalOne360, which offer better-than-average interest rates with no account minimums or fees. 
Unless there is a compelling reason for remaining with a high-cost bank, just walk away.
A Good Savings Account Should Have No Withdrawal Limits
Some banks like to put restrictions on savings accounts, such as limiting withdrawals to four times a quarter or some comparable number. In fairness, there is a reason for this—if you are accessing your money that frequently, you should probably get a checking account. Nevertheless, it's your money. A bank that puts in restrictions like this is probably going to have hidden provisions everywhere so keep looking. There are better savings accounts out there.
A Good Savings Account Should Be Backed By a Strong Bank
Before the financial crisis of 2008 and 2009, it may have been easy to forget that banks can fail.  And when they fail, it can be ugly for depositors depending on the specific situation. There is absolutely no reason to put your money in a bank that doesn't have a rock-solid balance sheet. For much of the past decade, banks such as U.S. Bancorp, Wells Fargo & Company, Northern Trust, and BNY Mellon have boasted extremely strong Tier 1 capital ratios, the primary measure of strength in the banking industry. Ideally, I wouldn't open a savings account with any bank that had a Tier 1 ratio of less than 10%.  
A Good Savings Account Should Never Have a Balance In Excess of the FDIC Insurance Limits
There are ways you can help avoid significant losses from having money stashed in a bank that collapses.
(Check out What is a Bank Failure for more info.) The simplest approach is to always make sure that the total amount of money you have at an institution is covered fully by the FDIC insurance limits. Right now, it works out to approximately $250,000 per institution, but there are some ways you can get around that by titling your assets with certain beneficiaries. It goes beyond the scope of this article to discuss it but the FDIC itself has some good publications that are available online.
Some Savings Account Will Allow You To Pick a Denominated Currency
For a certain subset of banking customers, there is one additional sign of a great savings account and that is the ability to select a base currency other than the United States dollar. One of the leaders in this field is EverBank. It will allow you to save and earn interest in a variety of currencies ranging from the Australian dollar to the Swiss Franc.
It doesn't limit its customers to savings accounts, either. You could opt for a certificate of deposit or another financial instrument in any of those currencies, and still receive FDIC insurance. You can buy foreign bonds. This bank will even let you put them in an IRA for your retirement account if you think it is prudent.