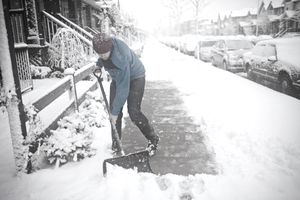 The winter can be a stressful time to own rental property. You may dread complaints about heat, and fear slip and falls on icy sidewalks. There are steps every landlord should take after a snowstorm hits. Here are five ways to protect yourself, your property and your tenants.
1. Wait Until It Is Safe
The most important advice is to stay indoors until you can get to your rental property safely. If you are injured in an accident that could have been prevented if you stayed inside, you will only be hurting yourself and your tenants by being unable to fulfill future obligations.
You should check the weather reports and should wait until main roads have been salted and plowed before heading out. You should not only be conscious of slick walkways and roads, but you must also be aware of hazards from above, such as falling trees, tree limbs or downed power lines.
If a state of emergency has been declared, only emergency and essential vehicles are allowed on the road. You are not legally allowed out until the emergency state has been lifted. 
2. Call Superintendent/Tenants
If you do not live at the property, you should call someone at the premises to assess the situation. If you have a building superintendent or a property manager, contact them to see what the conditions at the property are like. They will be able to tell you if there is any damage, how much snow or wintry mix the property has received and if the property still has electricity.
Depending on the contract you have with the individual, he or she may also be the one responsible for de-icing walkways and driveways and for removing snow.
If this is the case, you should tell them to do so as soon as possible, with their safety and the safety of your tenants being of equal concern.
If you do not have any type of property manager on site, then you should call one of your tenants. The tenant should be able to describe the conditions at the property to you.
They can tell you if there is a power outage at the property, if there is any apparent damage and roughly how much snow, sleet or ice has accumulated.
If you have made an agreement with the tenant to be responsible for shoveling and de-icing walkways, then you should advise them to do so when they feel conditions are safe or when local law states walkways must be cleared by. If you are the one who is still responsible for snow cleanup, let the tenant know you will be there as soon as it is safe to travel.
3. Know Your Local Law
Many towns have specific laws for snow cleanup. You must check with your state, town or municipality to determine how long you have after snow fall ends to clear your walkways. Two to four hours after the storm ends is common, with more time given if the snowfall occurs at night. You can be fined if your walkways are not cleared in time and could even face a lawsuit if someone trips and falls on your property.
4. Assess Any Damage
When you arrive at the property, you should first look for any damage caused by the storm. You should take pictures of any damage so you have evidence in case you have to submit an insurance claim. Examples of storm damage could be burst pipes, missing roof tiles because of strong winds or a fence damaged by a falling tree.
You should make sure all tenants have working heat.
5. Clean Up
Once you have assessed any potential damage to your property, it is now time to clean up. If the storm deposited snow, first shovel the walkways, stairways and driveways, then put down a de-icer to make sure the areas do not freeze overnight. If the storm was mainly an ice storm, you may not have to shovel, but you should put down de-icer to prevent slips and falls.
You will also want to remove snow that could cause potential flooding in your property as it melts, such as snow that has accumulated near a door to the basement. You should also check for heavy snow accumulation on the roof, awnings, balconies or other structures which may not be used to sustaining such weight. If you can safely or easily remove the snow yourself, then do so.
 If not, you may want to hire someone who has the proper equipment to safely remove the snow.