Why the World's Largest Ship Propeller is Made of Bronze
The Emma Maersk Boasts the World's Largest Ship Propeller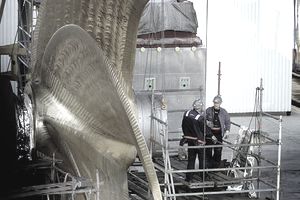 Copper alloys are widely used in marine applications because of their resistance to corrosion, good machinability, as well as their thermal and electrical conductivity. Bronze alloys, in particular, are the preferred metal for casting large ship propellers.
The World's Largest Ship Propeller Built for the Emma Maersk
Mecklenburger Metallguss GmbH (MMG) of Germany is considered a world leader in the design and production of propellers for large container ships.
In 2006, MMG produced the world's largest ship propeller for the Emma Maersk, which at 1,302 feet (397m) is one of the longest container ships ever constructed.
Emma Maersk's six-blade, single-piece propeller took one and a half years of development and planning, while the metal used to cast the propeller is an alloy of copper, aluminum, nickel, iron and manganese.
The propeller has a diameter of 31.5 feet (9.6 meters) and weighs over 130 tons. Because of its massive size, it required two weeks to cool after casting and then three weeks of milling before it was ready for delivery and installation.
Special Features of the Emma Maersk
The Emma Maersk is powered by the world's largest single diesel unit. The Wärtsilä-Sulzer 14RTFLEX96-C 109,000 horsepower engine weighs 2,300 tons and burns 3,600 gallons of heavy fuel oil per hour. Some of the exhaust gas is returned to the engine to lower environmental impact and improve efficiency.
Some of the gas is also used to power a steam generator to create electricity and heat. 
The ship is painted with a special silicon-based paint. Like more commonly used biocides, it keeps barnacles from attaching to the hull. Unlike the biocides, however, it is not toxic to ocean life. The paint not only protects the sea but also lowers drag and increases efficiency.
The paint alone is credited with saving 1,200 tons of fuel each year.
Facts About the Emma Maersk
The Emma Maersk was named for Maersk McKinney Moller's wife, Emma. Her maiden voyage started in September 2006 and took her from Denmark through the Suez Canal to Singapore, China, and back to Europe. One of her most famous voyages occurred in December 2006, when she briefly became the SS Santa because she carried Christmas goods from the UK to China.
More about copper alloys used in marine applications.