The Truth About Small Business Grants in Canada
True Government Grants for Small Business Are Hard to Find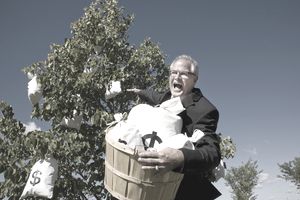 A lot of the email I get is from people looking for small business grants, funds provided to start or expand a qualifying small-to-medium-enterprise (SME) that do not need to be paid back. This, of course, is their essential difference from small business loans, which do.
I have to tell them what I'm telling you here; finding (let alone getting) a small business grant in Canada is tough sledding.
The federal government (sensibly in my opinion) prefers to invest in the small business by operating loans programs or assistance programs that involve some sort of shared contribution rather than in small business grant programs.
Very Few Grants Are Actually Free Money
Free money is what most of us are looking for when we're looking for a grant, especially if we're looking for one to start a business. Unfortunately, almost all the government grants available have strings attached.
For instance, in many cases, small business grants require a financial investment by the applicant. So although the grant itself doesn't need to be paid back, in order to get the grant you have to put your own money up front first. And it has to be your money. The funders see your investment as demonstrating a commitment. An investment of 10 to 20% seems standard. (This may be why government literature almost never refers to small business grants but almost always, instead, to "non-repayable contributions".)
Job creation is another common "attached string" for a government grant available for starting a new business. For instance, one of the guidelines for the Northern Business Opportunity Program - Small Business Start-up Projects reads: 
"The proposed new business will operate on a full-time basis and result in job creation in Northern Ontario."
Government Grants Are Extremely Specific
The government's purpose in providing grants to businesses is to spur the development of particular businesses in particular places. They might, for instance, be focused on creating a biotech hub in Ontario or increasing the number of call centres in Nova Scotia.
This is great if you're involved in any of the industries the government is interested in spurring on. However, most people who start businesses in Canada want to start small retail businesses such as bakeries, clothing stores and book shops - and the government has no interest in increasing the growth of the small retail sector, especially in the parts of the country where people prefer to live.
So in Canada, small business grants are often only available to individuals of a certain demographic who reside in a particular place, as well as being tied to a particular condition of a business or certain industry.
These examples of small business grants in Canada will show you what I mean.
Small Business Grants for Particular Places & People
Grants to Small Business Program Northwest Territories - These small business grants are for small businesses, co-operatives, partnerships or sole proprietorships with less than $500,000 in gross sales. Through the SEED Entrepreneur Support Program, All NWT Businesses are eligible for up to $15,000 per year in assistance to assist with costs associated with Start-up, Capital Assistance, Operational Support, and Market Development and Product Promotion.
Small Business Grants for Particular Industries
Particular industries have the edge when it comes to small business grants. For instance:
AgriMarketing — SME Component  - SMEs that are part of the agriculture, agri-food, fish or seafood sectors may be eligible for funding of up to $250,000. Eligible projects must aim to develop new export markets or further penetrate existing export markets. To be eligible, your company must have annual sales of no more than $50 million, have completed market research, be export and market ready and contribute a minimum of 50% of the project costs.
Centre of Excellence in Next Generation Networks (CENGN)  - Technical and financial support equivalent to $50,000 to $100,000 is available to businesses and researchers "looking to accelerate the commercialization of your innovative communications technology, products, applications or services". Qualifying fields include Software Defined Network, Network Function Virtualization, SD WAN, Internet of Things/Smart City Applications, Data Centre/Cloud, Network transport, applications, or mobility, and Security.
"Partial" Canadian Small Business Grant Programs
Then there are small business grant programs that aren't really. You'll get some "free" money with these grant programs, but you'll have to make your own financial contribution to get it:
Toronto Region Sustainability Program - The purpose of the Toronto Region Sustainability Program is to cut down on the amount of smog, greenhouse gases, toxic releases to the air and sewers, and hazardous wastes which threaten the region's environmental health. To this end, the program provides one-stop pollution prevention technical assistance for SME manufacturers in the Greater Toronto Area (GTA), and a 50 percent cost-share funding incentive, up to a maximum of $5,000.
Bioenterprise Seed Funding Program - Businesses in the agriculture, agri-food, sustainable or environmental technology sectors in southern Ontario could access up to $30,000 in seed funding and coaching and mentorship support services. (Note that applicants must match the grant with their own financial contribution.)
The Best Canadian Small Business Grants of All
However, don't despair. While small business grants with no strings attached for just anybody who wants to start a business are few and far between, even better financial assistance is available - programs.
If you are willing to make the required contribution, (often some kind of sweat equity) and demonstrate your level of commitment, these programs offer small business funding and the kind of support, such as training and/or mentoring that can make the difference between success and failure.
Self Employment Program - What makes this program so outstanding is the level of support provided. Participants not only get help in creating a business plan for a viable business, but receive income support while they do it – for up to a year (or up to 78 weeks for a person with a disability). You have to be Employment Insurance eligible to apply.
Summer Company - Students in Ontario aged 15 to 29 can receive small business grants ("awards") of up to $3000 and hands-on entrepreneur training and support to run their own summer businesses. (Applicants must not be eligible for other self-employment programs, such as the Ontario Self-Employment Benefit.)
You May Still Be Able to Get the Money You Need
These are only some of the government programs that provide "non-repayable contributions", "awards", "shared-cost subsidies" or other funding similar (or even identical to) a small business grant.
For more small business grants in Canada that your business may be eligible for, see my Small Business Grants section. And for even more sources of financing, be sure to consider small business loans, as there are many more Canadian small business loan programs than small business grants.