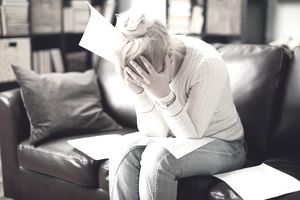 Dave Ramsey offers practical advice on how to get out of debt. This book is focused on motivating readers to take the necessary steps to become and stay debt free. it is a straightforward book, but some critiques feel that it oversimplifies the process and does not address deeper issues that you may be facing. However, if you are serious about changing your financial situation there is solid advice and a good plan in place.
It is a quick read, and makes a great gift to anyone just starting out financially. These steps will help you set up good financial habits that can benefit you throughout your life. 
Pros
Offers solutions to many money mistakes
Fun and easy to read
Explains difficult concepts simply
Cons
Focuses primarily on getting out of debt
Forms in the book are time consuming
Review
Dave Ramsey outlines a seven step program to help you achieve true financial success. He does emphasize the fact that getting out of debt and saving money will require sacrifice and hard work. He offers inspirational stories to motivate you to change your spending and savings habits along the way. This books can help change most financial situations. It is easy to understand and straight forward. An easy read, with practical steps that can make a difference in the way you handle your money. 
Focus on Getting Out of Debt
Although Dave Ramsey does include the necessary steps of saving for various reasons, this book is primarily focused on getting out of debt.
He explains the traps that many people fall into when it comes to borrowing money. He also explains what to do to turn the situation around. He focuses on truly taking control of your money through basic budgeting and debt reduction. The book provides examples and explains his own personal experience with debt and the steps he took to change it around.
The advice is practical, but it does require effort on your part. This is not a magical solution to your financial situation, but a practical one that will work if you apply it. 
Budgeting Help and Other Options
Although his zero-dollar budget is a good one, the budgeting worksheets at the back of the book are too broadly focused to be very helpful. He also advocates the envelope budgeting system, However, you may consider visiting his website to take advantage of his online tools. The budgeting tool helps to save you time by making it easier to fill out and track your expenses. There is a monthly or annual charge for accessing these tools. He has a monthly budgeting program that you can use. You may also want to check out other software options, but apply his zero-dollar budget rules when using it. Budgeting is key to making the plan work, and if you need help you may consider taking a class on budgeting or the Financial Peace University classes that he offers. 
Solid Advice When Starting Out
This is a great book for those just starting to take control of their finances. If you simply follow Dave's plan you will get out of debt and stay that way. You may want to look for more in-depth resources once you start saving for retirement and your children's education.There are many people who have followed this advice and changed their lives.
Once you have gotten out of debt, established your emergency fund, you will move onto investing for various reasons. The advice in this books is fairly basic, and you will likely need to seek additional information when it comes to investing and talk to a financial adviser. 
Check Out Other Resources Offered by Dave Ramsey
If you enjoy this book and want more help implementing the plan, Dave Ramsey does offer classes that you can sign up for online or through a local church or bank. The Financial Peace University classes will take you through the steps of setting up a budget and a debt snowball plan. If you are married, it is recommended that you take the classes together. You can also purchase the workbook to have additional resources to help you implement the plan. You can also listen to his radio show to learn more about his plan.