The Switch To Mobile Is Already Here.
Advertising Week's Big Lesson - Go Mobile, or Go Home.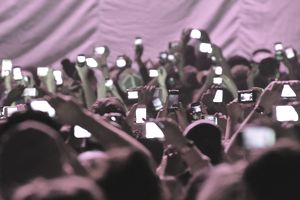 Every year, thousands of people from advertising, marketing, design, and communications, come together in New York for Advertising Week. And every year, there are subjects that can be described as hot buttons, and others that are clearly going the way of the dodo.
When Advertising Week started, over a decade ago, the industry was very different. Back then, the daily sessions would revolve around the creation of TV and radio advertising, outdoor, guerrilla, direct mail, and other traditional forms of media.
Only two years ago, those topics were dying out in favor of​ the more obvious replacements – digital media, social platforms, Internet presence, and of course, the rise of mobile. In 2013, every speaker said that in a few years, mobile would be the center of the advertising and media universe.
They were right.
Learnings From Advertising Week XII.
At Advertising Week XII, there were hundreds of sessions conducted over the 4-5 days of the conference. Of those, you could count on one hand the topics that were not, in some way, centered on the rise of mobile, and the importance of digital.
Some startling revelations were made about mobile.
We spend over three hours and forty minutes on our phones.
We look at our phones at least sixty times per day.
We spend 9 out of every 10 minutes in an app of some kind.
Two thirds of millennials watch video FIRST on mobile.
70% of millennials Tweet while watching events.
These facts were just the tip of a very large iceberg, but it was something that the audience was hit over the head with, session after session.
Mobile is not the next big thing. It's not the rising star. Mobile is EVERYTHING. It's right here, right now, and we are all hooked on it. And that means some of us have to grow up very quickly and evolve, or die.
Not Mobile First, Mobile ONLY.
Mobile is a tough transition for many marketers and advertisers to take. It's not sexy and glamorous, like big-budget TV and cinema spots. It's not tactile, and easy to photograph, like billboards and magazine ads. Mobile is fleeting, and very quickly consumed and left behind. This is the culture we are all in. But it is the culture we must embrace, understand, and enjoy.
When it was suggested that clients stop reviewing TV spots on their 65" boardroom TVs, and instead watched them on a smart phone, the mumbles and grumbles in the audience were palpable. But, that's how they are being consumed.
When building a website, build for mobile first. This is the place where you have consumers ready to search, browse, and buy. They may even buy locally, meaning a good mobile presence can bring them through the door.
But if you get it wrong in mobile, you pay the price. And that means making your mobile crusade culturally relevant. In fact, to paraphrase Spencer Baim, Chief Strategy Officer of Vice, brands are waging a war for cultural relevancy. This war is being fought over mobile, and brands who truly understand that space will come out on top.
So, What Can You Do To Embrace Mobile?
What can we all do?
The move to mobile requires a massive paradigm shift. Media buyers cannot simply look at last year's TV and outdoor budgets and adjust for inflation. Clients cannot ask for TV spots and radio ads, or if they do, they need to be reasoned with. There has to be a response to the client's problem, and that will almost definitely include some kind of mobile component. When almost everyone you want to reach is spending over 3 hours every day looking at their phones, you want to be there.
How you do it; that's a much longer conversation.