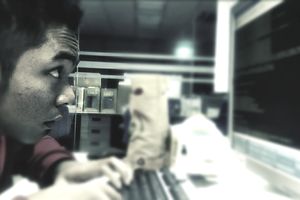 A recent 2015 study found that in 2014, more than $16 billion was stolen from more than 12 million U.S. consumers. In other words, there is a new victim of identity theft every two seconds.
Account fraud occurs when someone opens a financial account, such as a credit card, using a victim's name and Social Security number. The thief uses this information to run up debt, and then the victim is left with a terrible credit score and unpaid bills.
It can take months or years to discover that an identity has been compromised so that thieves can use these accounts for a long time.
Of all people, students were the most likely to be concerned about this type of fraud, which make them an easy target. Those who do become targets are more likely to have a significant effect on their credit due to fraud. Students are also less likely to notice they have become victims, too, and approximately 22 percent of these students only realized they were victims of identity theft when contacted to collect a debt or when applying for credit.
Fraud Complaints and Identity Theft
The Federal Trade Commission has a database that contains more than 10 million complaints of identity theft from 2010 to 2014. In 2014, alone, more than 2.5 million complaints were heard. Of these complaints, about 60 percent were fraud reports and 13 percent were identity theft.
Cybercrime
More companies than ever depend on computer networks and electronic data to conduct business and all of this financial information and data are shared and stored online. This means all of this data is now exposed to violations of privacy and this can put businesses in a position to be exposed to an enormous liability should any security breach occur.
To attempt to combat this, the FBI, Bureau of Justice Assistance and the National White Collar Crime Center came together to create a way to monitor criminal complaints from the Internet, known as the Internet Crime Complaint Center, or IC3. In 2014, IC3 received almost 270,000 complaints, which was more than 22,000 each month. Of these reports, more than 123,000 involved a monetary loss and the total losses were more than $800 million. The most common of these complaints involved real estate and auto fraud in addition to email scams, such as government impersonation.
The public interest in both the risk of cyber crime and insuring against it has grown over the past two years as a result of a number of high-profile breaches of date including those at Anthem, which exposed the data of almost 80 million customers, and Premera Blue Cross, which exposed the data of more than 11 million customers. The government was also targeted by hackers in May 2015 in two different attacks. This attack compromised the personal records of as many as 14 million former and current civilian employees of the government. There was also an attack on Sony Pictures Entertainment in 2014, which was thought to come from North Korea.
Breaches and cyber attacks have been on the rise, and in 2014, there were almost 800 data breaches in the United States, and within these breaches, there were almost 86 million records exposed. The majority of these breaches affected health or medical organizations and business. In the first part of 2015, there were more than 400 data breaches publically disclosed, with more than 117 million records exposed. In addition to these figures, there are many more that have not been reported. Despite some confliction of some analyses, the cost associated with these breaches are also increasing. Both the Center for Strategic and International Studies and McAfee estimate that the total global impact of cybercrime ranges from $375 to $575 billion each year.