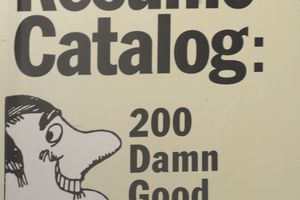 Summary of The Resume Catalog: 200 Damn Good Examples
This comprehensive book contains real resumes written by Yana Parker for her clients at Damn Good Resumes, a resume writing service. According to the author, these clients were real people without perfect backgrounds. Some, for example, had gaps in employment. Being mindful of this, Ms. Parker included tips to help readers resolve or minimize these problems.
In addition, she addressed the needs of young job seekers, including those seeking part-time and after-school employment. She also provided sample resumes for recent high school and college graduates looking for their first jobs.
My Review
From the first time I saw this book, in 1999, it has been and continues to be, my favorite resource for resume writing. Although it was published in 1996, it is still relevant today. I use this book with all my clients who need help putting together a resume. It helps them see how they can put their own accomplishments and qualifications into words that best highlight their unique abilities and accomplishments. The sample resumes cover a wide variety of occupational fields and levels of experience. In addition to being useful for individuals, it is also useful for career development professionals, who must help their clients write resumes for career fields with which they aren't familiar.
Pros
You will find 200 sample resumes divided into 13 broad job categories.
Each of those categories includes between 10 and 20 job titles. That gives you a good chance of finding a resume that targets the job title you are pursuing or at least something similar.
You can use an index at the end of the book to search for resumes by job title.
This book goes beyond just providing samples of the the most commonly used resume type, chronological resumes. It also includes skills-based resumes, also called functional resumes. This format is very useful for people who are changing careers.
There's help for young job searchers in a section titled "Youth and Student Resumes."
You will also find sample cover letters, along with advice on how to write them.
The final section of this book is a very helpful section titled "25 Tough Problems and Resumes That Illustrate Solutions." You will find answers to questions like, "How can I avoid job discrimination with a 30-year work history?" and "How do I get rid of the 'job hopper' look on my resume?"
Cons
Since this book was written in the mid-nineties, it uses job objectives, which have fallen out of favor with some career development and resume experts, the author of this review included.
The author, Yana Parker, died in 2000. Although the company she founded, The Damn Good Resume, still lives on, this title has not been updated. The company operates a website (damngood.com) where you can find resume help, tips and samples.
Details: 
Title: The Resume Catalog: 200 Damn Good Examples (New Updated Edition)
Author: Yana Parker
Publisher: Ten Speed Press
Publication Date: 1996
Available from Amazon: $16.95