The Power of Mexico's Auto Industry Growth
Business Booming, Looking to Boost Domestic Tier 2 Infrastructure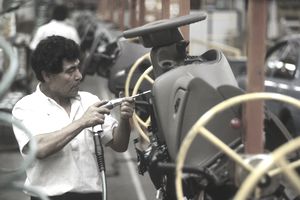 Clocking at almost $20 billion in new investment in automotive manufacturing capacity over the last few years, Mexico has become a focus of worldwide investment in car production. No surprise, it is positioned to stay in the fast lane of automotive output. A member of the world's "Top 10" nations for light vehicle production (China is Number 1 and the U.S. is Number 2), it recently moved ahead of Brazil to take hold of the seventh ranking with ​the production of around 3.3 million vehicles in 2014.
By 2018 it is expected to push the needle to 4 million units, accelerating to 5 million by 2020.
Mexico' Auto Industry by the Numbers
Here are some statistics related to Mexico's impressive automotive growth:
Mexico's auto sector accounts for 6 percent of the national GDP and 18% of manufacturing production.
Greater than 48 car and light truck models are produced in Mexico from 18 different production complexes, located in 11 states of Mexico.
Auto manufacturers in Mexico must purchase at least 62.5 percent of auto components from North America (including Canada and the US.) to maintain duty-free status.
Currently, 40 percent of all North American auto sector jobs are in Mexico, up from 27 percent in 2000.
Mexico has free trade agreements with 44 countries, while the U.S. has free trade agreements with only 20.
About 80 percent of cars manufactured in Mexico are exported. About ? of them come to the U.S.
Mexico also ranks sixth in terms of auto parts production, with an estimated $81.5 billion in sales in 2014.
GM will invest $3.6 billion through 2018 to modernize its four Mexican plants.
Nissan will produce new luxury vehicles, including Infiniti, at its new $1.4 billion factory in Mexico.
BMW will invest $1 billion in a new factory in central Mexico which will produce about 150,000 vehicles per year.   
Reasons for Mexico's Growth in Automotive
Aside from traditional advantages such as lower wage rates (roughly 20 percent of those in the U.S.),the growth is attributed in large part to Mexico's pro-business approach, in addition to having established 44 free trade partners. As one automaker told Forbes, "I can export duty-free to North America, South America, Europe, and Japan. There's not another country in the world where you can do that." Unlike auto manufacturing in Ontario, which faces a winter closure of waterways, Mexico enjoys open waters year-round. Like Ontario, it is located close to the huge U.S. market that consumes 70 percent of Mexico's production, and plants are typically within 4 hours of both Atlantic and Pacific coasts, offering advantages for worldwide export.
The Need for a Domestic Tier 2 Base in Mexico
A number of OEMs have been manufacturing in Mexico for many years, relying largely on components from the U.S. and Canada. This has been because of a shortage of Tier 2 producers in that country. According to Mexico's Industria Nacional de Autopartes (INA), the Mexican association of auto parts manufacturers, Mexico generated  USD76.8 billion worth of automotive parts in 2013, however, this was achieved with the import of a significant amount of components - to the tune of USD38.9 billion, a number up 7 percent  from 2012.
There are not only important financial benefits to Mexico for developing a stronger domestic Tier 2 base but supply chain advantages as well.
Onofre Costilla, Marketing Manager & New Business Development at PTM, a domestic Tier 2 producer, stresses the importance of proximity to its Tier 1 customers. "One of the key trends in automotive is shortening supply chains," he notes. PTM, which has its major production facility located centrally in the state of Querétaro, produces a range of precision molded plastic components to the automotive sector.
Overall, Costilla notes, one of the drivers for the location of Tier 2 plants in Mexico is around supply chain issues and 'Just-In-Time" delivery. Strategically located plants dramatically shorten the supply chain, eliminating the risks involved with longer shipments that can lead to disruption to production, and the need to air-freight parts from abroad.
Locating close to the customer reduces cost and time.
For next few years, Mexico's automotive future looks bright, buoyed by strong investment, and a strong U.S. market. It will be further enhanced by the growth of a stronger Tier 2 infrastructure within the country.
References