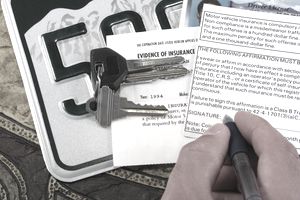 Insurance is not a tangible object. The only thing you get is a whole lot of paperwork referred to as your policy. Within every insurance policy is a declarations page or dec page for short. Aside from your proof of insurance ID card, the declarations page is the most important document in your policy paperwork. The declaration page has several important jobs.
First off, what does a declaration page entail?
All of your pertinent insurance information is listed on your declaration page. Personal information such as your name, birth date, and driver's license number are all on your declaration page. Your vehicle information and lender information are both listed on the dec page. Also, your coverage, discounts, and premium are listed on the dec page. Your declaration page is laid out to display everything for easy access.
Your declaration page is mailed or emailed to you every time your policy renews or a change is made. Keep it readily available so it can be accessed quickly if needed. If you cannot locate your declaration page at any given time, you can contact your agent or insurance carrier directly to get a new copy sent to you. Several key duties of the declaration page include:
Reference Tool:
Your declaration page is a great reference tool. Use it to make sure your coverage is accurate. If you just bought your policy, review your declaration page to verify everything is what you agreed to.
At the time of a claim, get out your declaration page to confirm coverage. Any time you have a question about coverage refer to your declaration page.
Insurance Change Verification:
So you just called your agent to add a vehicle onto your auto insurance policy. How do you know the change was completed?
Every time a change is made to an insurance policy, a declaration page is mailed or emailed directly to you. Keep an eye out for the dec page after you make your change so you know your change was processed properly. Review the page to confirm everything is listed correctly.
Lender Verification:
If you have a loan on one of your vehicles, the lender usually requires proof of insurance. The lender is not looking for your insurance id card, but your declarations page. The dec page will verify the vehicle is on the policy, the coverage assigned to it, and show the lender is listed as loss payee and or additional insured. Many times your insurance company is the one that sends your declaration page to the lender, but sometimes it gets mishandled and you will need to provide a copy.
Shop for Insurance:
When you shop for insurance, have your declaration page on hand to assist in your search for a new policy. It will let both you and your potential new insurance company verify your current coverage, allowing for a side by side comparison. Plus, when you switch insurance your new company will want proof of your current coverage. Your insurance id card usually is not sufficient. Your declaration page is required to verify your current coverage.
A declaration page is essential for your insurance file. It is used for all personal lines of insurance including auto, home, motorcycle, RV, and boat policies. Scrutinize your declaration page to make certain it is absolutely accurate. Review your personal information, the vehicle information, all coverage, and premiums. Also, verify all the discounts you qualify for are listed accurately. The declaration page is truly your only weapon against errors. If you ever have any questions about your declaration page, ask your agent for help reading it. Insurance paperwork can be complicated to decipher, but the importance of the declaration page makes it one you will want to understand fully.