The Ecommerce Ancillary Industry
It Might Make More Sense to Be a Provider to the Ecommerce Industry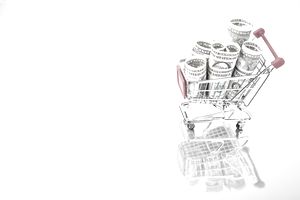 Ecommerce is a growing tsunami in the retail industry. Once considered a fringe retail business, today, it is an industry in its own right. In the next couple of years, online retail sales will start overtaking offline retail sales in several major markets. And this trend seems irreversible.
Statements such as the above are true, and cause exuberance in financial markets. They make ecommerce investors want to jump on to the gravy train, and laugh all the way to the bank.
But wait! This kind of irrationality is not sustainable, and can lead to market crashes. So how does one play the ecommerce game?
The Ecommerce Tide Is Rising. Choose the Right Boat Nonetheless
Investing in profitless ecommerce companies that have ballooning valuations could yield great returns. But you might also be left holding the baby when the company implodes. To make the most of the rising tide of ecommerce, you could also consider investing in (or setting up) a business that is in industries ancillary to ecommerce. Here are some of them:
Logistics: Someone Needs to Deliver the Goods Everyone Is Buying Online
The biggest gainers from the ecommerce boom are the 3PL's (third party logistics providers). Some of them have grown so big that they have fleets of airplanes in multiple countries.
Payments: Credit Card Issuers, Payment Gateways, Digital Wallets, Stored Value Online Accounts, and Others are Facilitating Ecommerce Payments
Unlike with currency notes, digital payments require an intermediary or service provider to process the payment. Given that ecommerce websites are clocking millions of transactions every few minutes, even if a sliver goes to the payment processor, it is big business.
Analytics: Making Sense of the Big Data Trail Ecommerce Transactions Leave Behind
By their very nature, ecommerce websites create a wealth of data. The data relates to sales, but even browsing habits and behavioral data get captured. Advanced data analytics on these data sets could yield actionable consumer insights that would change the fortune of ecommerce companies.
SaaS: Complex Software Solution Providers Are Powering Ecommerce Websites
Although powerful open source shopping cart software is commonly available, there are several complex functions that are not available in such software. These could relate to security, communication, authentication, or the like. This has given birth to SaaS (Software as a Service) providers who integrate their offerings into shopping cart software.
Design: Outstanding User Interface and User Experience Specialists Are in Great Demand
When all else turns cookie cutter, an ecommerce player only has its brand as the differentiator. One of the aspects of the ecommerce website that helps develop brand salience is its visual appeal. That has led to the growth of design studios that work hand in hand with ecommerce developers.
Content: Great Content on Ecommerce Websites Leads to Organic Traffic
An unsung ancillary industry to ecommerce, it develops volumes of content to make more appealing websites.
This content could be articles, videos, images, social updates, blog posts, among others.
Ad Networks: Online Ads Continue to Be a Preferred Mode of Sourcing Qualified Traffic
Besides logistics players, ad networks have been the biggest gainers of the ecommerce revolution.
Investing in, or setting up, ecommerce businesses might still be a good idea. But make sure not to overlook the opportunities that ancillary industries provide.