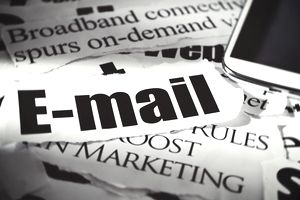 E-mail marketing and autoresponders are essential, effective tools for small and medium-sized businesses. They give you the ability to compete on an equal playing field with larger companies and present a professional image to your prospects and customers.
See also: Why You Must Be Using Email Marketing in Your Business
Even in this era of accelerated social media and mobile communications technology, e-mail marketing remains an incredibly cost-effective marketing channel.
Here are just some of the ways it can make a difference for your company:
Sales and event promotion
Seamless integration with other internet marketing methods
The AWeber Story
There are numerous email autoresponder options to choose from, but one of the most popular options when it comes to email marketing today is AWeber. Founded by Tom Kulzer in 1998, this Chalfont, Pennsylvania-based company has over one-hundred twenty thousand customers. It has a diverse clientele but is best known for catering to home-based solopreneurs and 'Mom and Pop' operations.
Central to AWeber's successful operations are its core values, as listed on its website:
Create Remarkable Experiences.
Execute with Passion.
Foster Respect and Cooperation.
Listen to what people have to say about us.  Invite feedback.
Learn.  Educate.  Innovate.
Don't take ourselves too seriously. Have fun.
Does AWeber live up to its rhetoric? Our findings may shock you... 
See also: How to Increase Trust and Sales with Email Marketing
1. Making E-mail Marketing Easy and Effective
AWeber's popularity stems from its simplicity of use. No coding or design experience is required. This is evident with its wide array of tools, including:
'Drag and Drop' message editor that lets you create headlines, add buttons and insert images into your message.
Choice of 600+ e-mail templates to make your campaigns (broadcasts, follow-ups, etc.) stand out from the competition.
Taking your Really Simple Syndication (RSS) feeds and sending them out according to your predetermined schedule.
Email sign up forms and email newsletters optimized for mobile devices.
AWeber boasts a 99% deliverability rate, which means that your e-mails arrive at your subscriber's Inbox as scheduled, uncorrupted.
2. Helping You Add Subscribers and Customers to Your List
We know that list-building is the ticket to business success. AWeber wants to do its part by offering its clientele a variety of applications:
AWeber lets you conduct various split testing exercises that reveal what forms work best for you. Its analytics tools let you measure the success of your campaigns with important, easy to access statistics (e.g. open rates, click rates, download percentages, buy rates, etc.).
3. Pricing to Satisfy the Tightest Budgets
AWeber's base pricing plans start at $19 USD monthly ($194 USD annually) for customers with five-hundred subscribers or fewer. As your subscriber base grows, the price increase is relatively modest as follows:
501 – 2,500 subscribers +$10 monthly
2,501 – 5,000 subscribers +$30 monthly
5,001 – 10,000 subscribers +$50 monthly
10,001 – 25,000 subscribers +130 monthly
25,001 and up – Ask for preferred rate
Non-profit organizations and student entrepreneurs are also entitled to special pricing upon request and identity confirmation.
4. Additional Training and Support
AWeber offers a wide range of How-to video tutorials, PDF guides, free live webinars and a robust blog to answer questions and keep customers updated on the latest e-mail/autoresponder innovations.
If all else fails, you can contact its Customer Solutions team via telephone (seven days a week), online chat or ticket submission.
Conclusion
Like most companies, AWeber started out small. However, even as an established market leader, it hasn't forgotten its small entrepreneur roots and work ethos. If you haven't made the decision to boost your online marketing presence yet, you could do worse than take their famous free trial for a month. 
Pay AWeber.com a visit, or contact its customer service team to see if its services are a good fit for your business.
Updated AWeber Features and Services
Send emails in any language: you can now send emails in any language you can type, including Emoji's.
Importing Existing Emails: a much-requested feature, AWeber now allows you to import your existing customer and subscribers lists without requiring each subscriber to opt-in again (providing the lists meet certain criteria).
Add Video in Emails: You can now share your own (or other people's) videos directly into your emails using a drag and drop editor.
New Stats App: You can now check your email follow up stats, along with your broadcast email stats, on the go via the AWeber mobile Atom App.
Import Subscribers without Opt-in: a HUGE new option with AWeber allows you to add subscribers from another email provider without having them need to opt-in a second time!