Learn About the Cheese Business At This Industry Insiders' Conference
Meet Cheese Veterans, Makers and Influencers Feb 21-26 in Sonoma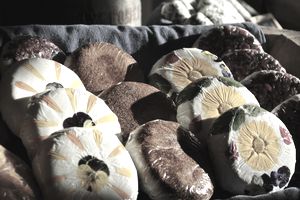 The best way to get into food is to connect with people doing it, in person. Here's a great way to get into the cheese industry.
A new wave of artisan and urban cheesemakers takes the spotlight at the Annual Sonoma Valley Cheese Conference (SVCC) – a yearly gathering of American artisan cheesemakers, retailers, distributors, suppliers and food writers, in February in Sonoma, California.
Run by a reknown cheese industry's connector, Sheana Davis, the SVCC gives aspiring cheese professionals a chance to learn in an intimate setting.
Conference topics range from production to pairing and selling cheese profitably as does the American Cheese Society's annual event.
Given the nature of cheese, rules change all the time. For new cheesemakers and those already in business, a conference like this not only gives you a chance to catch up on the latest regulations but to meet industry veterans and opinion leaders.
And yes, there will be plentiful cheese sampling and Beer and Cheese Pairings along with an Artisan Cheese Fair both for consumers and the trade.
To illustrate what a seriously learning-focused conference this is, check out past topics:
Welcome by Glenda Humiston, USDA (a serious food industry expert and compelling speaker)
Is your business model sustainable with:
Stephanie Larson Sonoma County UCCE, Beginning Farmer & Rancher Training Program Coordinator
Jennifer Kirkham – cheesemaker
Lauren Bowne – co-owner of Gypy Cheese Co.
Lynn Esposti – Stone Village Farms;  Lynn Esposti & Thor Bodtker
Cheese Analysis with Dr. Moshe Rosenberg of U.C. Davis
Feeding For Cheese & Profit with Anna Connor, Pug's Leap & Jed Asmus, Ewetopia Dairy 
Your Not So-Secret-Weapon: Working with the Media with Sarah Stierch
Local is More than a Zip Code: Opportunities and Challenges with Cheese Terroir
Building a Successful Cheese Plant from the Ground Up session with a Briar Rose cheese tasting with Sarah Marcus, Briar Rose Creamery
Profit Centers for Cheese Retail with Marnie Clark, The Cheese Cave & Jon Fancy Bi Rite Market San Francisco & Emilano Lee, Farmshop
What You Need to Know about Recalls and Liability with Richard Idell, Esq.
Pairing Cheeses and Wine with Tracey Shepos, Chef, Kendall Jackson Winery
Closing remarks with Ari Weinzweig of Zingerman's
The Sonoma Valley Cheese Conference will also connect you with companies who manufacture equipment and supplies for professional cheese production. For example a representative from Clauger, an air treatment specialist in the food industry, will be on site.
Admittedly, the idea of joining the American cheese movement may have you dreaming more of  awards than air conditioning. But learning the ropes early on will help you figure out if you want to use a co-packer rather than make the cheese yourself. 
In-person conferences and events, as well as apprenticeships, open your options and ultimately lead you toward your vision of a life dipped in cheese.
8 Careers and Business Ideas in the Cheese Industry
So you've finally admitted to yourself that you're destined for a career in cheese.
Milk supplier, with a cow, sheep, goat farm. One goat farmer in Oregon not only supplies cheese-making companies with milk, she makes lotion using her own goat milk. Larger dairy farms employ livestock managers and a range of staff to keep the farms clean and compliant with strict dairy production laws.
Cheesemaker, whether you are producing your own brand of cheese or setting up a factory to offer contract manufacturing services to cheese brands preferring to focus on marketing than production. (Dairy production laws require very expensive setup, which explains why a co-packing model could be in high demand.)
Cheese marketer or wholesale seller. You might learn how to make cheese then get into the sales and marketing side. Or simply apply your skills to help move the cheese merchandise. Given the perishable nature of cheese, such roles are critical for cheesemakers.
Cheese monger, educating the public and selling cheese tapping into your vast knowledge of cheese flavor and texture profiles, origins and pairing. You might work in the cheese department of a grocery store or open up your own cheese and specialty food shop.
Online cheese seller, which has a set of rewards challenges of its own, beginning with expensive cold-pack materials.
Industry supplier to cheesemakers and cheesemongers, perhaps expanding your product line to serve other similar producers.
Cheese educator and all-around expert. (If you can dream it, you can do it!)
Industry lobbyist, as part of an association advocating more cheese-friendly standards of production and importing.
Cheese importer, as a bridge between artisanal cheese producers around the world and cheese retailers.
The list goes on and on. As with any career planning, figuring out your motivation and skills makes a place to start—as do the American Cheese Society classified ads.
Essential Resources for Learning About the Cheese Business