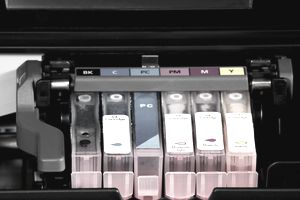 Recycling printer cartridges offers a great business opportunity for people with small investments. One can either go for owning a franchise of one of well-established cartridge recyclers or setting up his or her own cartridge recycling business.
Becoming a Franchisee of Established Cartridge Recycling Brands
There are a number of well-established cartridge recycling bands that are looking for individuals capable of doing cartridge recycling business in the areas where those brands are yet to reach.
Cartridge World and Rapid Refill are two examples of such brands. Currently, Cartridge World is operating in 50 different countries and it has around 1400 stores worldwide. Cartridge World encourages anyone with successful marketing, sales and customer service experience and background to apply for opening a Cartridge World franchise. On the other hand, Rapid Refill claims that it offers affordable cartridges for customers. So, becoming a Rapid Refill franchisee would give entrepreneurs an extra advantage.  Of course, for any individual contemplating investing in a franchise, it is imperative to do your homework.
Benefits of Starting Your Own Cartridge Recycling Business
Starting your own cartridge recycling business is another option as cartridge recycling business offers a number of benefits. Following are some of those benefits:
Very Fast Growing Demand: Almost every business and home has at least one inkjet or laser printer that needs refilling.
So, the demand of cartridge refilling is very high. And this demand is increasing very fast as people become more conscious about environmental consequences of dumping printer cartridges, resulting in the cartridge recycling industry being regarded as a multi-billion dollar industry. With the availablity of much more inexpensive refilled or recycled cartridges, printing is made more  affordable for customers.
Customers tend to have a very positive attitude towards cartridge recycling business as recycled cartridges cost less than 50 percent of brand new cartridges.  
Greater Profitability: Profitability in cartridge recycling business is very high as compared to many other businesses, according to franchise providers. They say that this is because many customers consider end of life cartridge valueless and are simply looking to dispose of them responsibly. Some simply give their cartridges to charities, or they may end up in the e-waste recycling stream. The bottom line is that spent cartridges can be aquired very cheaply, while the refilling or recycling process of cartridges is not overly costly. Cartridge recycling business is still growing and there is plenty of room as more and more people are getting conscious of this service.
Affordable Start-up Requirements: In cartridge recycling business, start-up investment requirement is very affordable. There are many businesses such as Quickfill Online which made cartridge recycling easier for small businesses. Quickfill Online has a wide range of products that are used to recycle cartridges of almost all the brands. The cost of this equipment, they say, is quite affordable, requiring only a minimum investment.
Quick Return On Investment (ROI): It doesn't take much time to recycle collected cartridges. So, you can quickly sell the recycled cartridges and have quick return on investment. 
Environmental Benefits: The world is moving toward sustainability. And recycling every possible product is key to bringing sustainability in our life. So, any kind of recycling business is supported by environmental groups and general people too are satisfied participating in the recycling process.
Great Community Impact: You can perform fundraising for community organizations such as churches, Scouts, schools by having them accumulate empty toner and inkjet cartridges. So, you can help these community organizations while making profit for yourself. This will build your goodwill in your community and more people will get aware of your services.
Whether you consider franchise or starting afresh, cartridge recycling is an opportunity well worth checking out.
References