3 Thanksgiving Bargains in Stocks
There are 3 Reasons that Thanksgiving Creates Bargains in Stocks.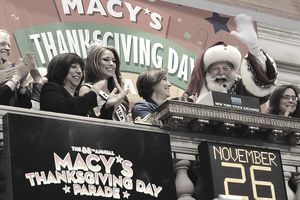 Thanksgiving is the biggest Holiday in America, at least from the perspectives of skipping work and traveling.  In fact, most people take an extra day off (the Friday), to make the event one big escape from careers and most responsibilities.
Of course by the time Thanksgiving rolls around, people very much need the break.  It's a great time to see family, and for many of us represents the final span of weather before the ground is covered in snow.
However, it is precisely the distracting nature of the annual Thanksgiving escape which holds the opportunities.  While it is compelling to pass out on your Aunt's couch watching the Detroit football game, there is another approach.  
In fact, there may be reasons to keep awake (at least partially) before the turkey's tryptophan knocks you out for a few hours.  Specifically, there are a few points which make Thanksgiving a great time for investors.
Artificial Selling Pressure Creates Bargains:
Almost 100% of tax-loss selling takes place between November and December.  This is where investors dump shares that are down on the year, so the loss can be applied against capital gains they've made elsewhere.  
In this fashion, they pay less overall capital gains tax.  However, this causes many already-hurting investments to drop even lower, especially when a big shareholder just needs to dump a significant block of a stock all at once with a single sell order (as they very often will).
Keep in mind that this tax-loss selling does not represent an underlying problem with the company being sold, but instead is an artificial selling pressure related only to taxation considerations.  If people are selling investments in big blocks, those investments very often can be bought for significantly less than they are realistically worth.
This leaves plenty of excellent companies at ridiculously undervalued prices.  Be on the lookout for unjustified price dips resulting from tax-loss selling in November and December.  As tax-loss selling pressures lighten up, the underlying shares often begin to rise back to higher levels, especially as January arrives.
Forgotten Friday:
The markets are open on the Friday, but almost no one is around.  In fact, they even close early (1 pm instead of 4pm) on that final business day of the week.  Trading activity is very light.  
This leaves some open sell orders to be "gobbled" up (pun regretfully intended I guess...), and the trades won't even be on anyone's radar until most people have their second coffee on Tuesday.
If you have your eye on a specific stock, and your purchase order is relatively small, Friday morning becomes a great time to pick up the shares.  You then are positioned before the following week rolls around, and traders return to the markets by the millions.
Escaping Halloween Horrors:
October is historically one of the worst months for stocks.  This sets November up to be a great rebound period, where undervalued shares start their recovery from the tough Halloween month.
 In fact, bargains abound as we near the Holiday, and many of those shares return to realistic levels entering December.
By all means, walk away from the markets over the Thanksgiving Holiday.  Take a break, clear your head, and enjoy the parades and NFL games.  Just don't be too surprised when you come back into the fold and see that for a deeply discounted price, some investors scooped up those shares you've been watching.