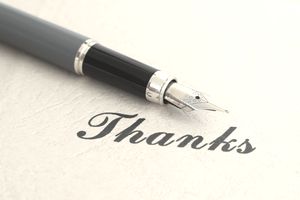 When writing a thank you letter, you may think it's the middle of the note — the part where you express gratitude in a personable and specific way — that is the most challenging section to compose.
Thank you letter greetings and closings may not seem so critical. But don't forget that when it comes to thank you letters, the formalities are also important. That's because letter readers have certain expectations of the style and tone of your letter.
You should thus always include a polite closing, as well as an appropriate greeting, in a thank you note.
The close of your letter is a formal way to echo the appreciation you expressed throughout the body of the thank you note. 
How to End a Thank You Letter
Whether it's a simple "Thank you" or a more formal "Thank you for your assistance in this matter," the closing statement in your thank you note should always be followed by a comma. Then, skip down a line and write out your name. If you are writing a letter that you will print out and mail, leave two spaces in between the complimentary closing and your typed name where you will sign your name in pen. 
Closing Options for Thank You Letters
The following options will cover a variety of circumstances and are good ways to close a thank you letter:
With gratitude
With sincere thanks
Your help is greatly appreciated
Many thanks
Kind thanks
Gratefully
Gratefully yours
Thank you
Thank you for your time
Thank you for your consideration
Thank you for your recommendation
Thank you for your assistance in this matter
Best
Best regards
Sincerely
Sincerely yours
With thanks and appreciation
With appreciation
How to Choose the Right Closing Phrase
Any of the options listed above are appropriate.
Some are more formal, while others are softer and a bit warmer in tone. (It's subtle, but "Kind thanks" has a different impact than the more formal phrase, "Thank you for your assistance in this matter.") The degree of formality you employ will depend upon your recipient. If they are a friend or an acquaintance you know personally –- or even a job interviewer with whom you felt you established a good rapport –- it's fine to use the warmer tone.
If, however, you are thanking a business associate or someone you have never met, the more formal, conservative phrases should be used. Read through your entire letter and try to think what tone you're conveying in order to help you select the right closing sentiment.
The Other Components of a Thank You Letter for a Job Interview
There's much more to a successful thank you letter than simply including an appropriate closing phrase! Here's advice on what to include in the other sections of the thank you notes you should write after completing job interviews with potential employers:
Salutation: In the same way that it's inappropriate to close a business letter with "XOXO," you'll want to make sure that your opening greeting is not too casual or familiar. There are various salutations you can use, including the most common option, "Dear."
Say thank you: This may seem obvious, but you'll want to open your thank you letter with appreciation — if you are writing a thank you letter following a job interview, be sure to thank the interviewer for giving you the opportunity to interview, and for taking the time to chat about the nature and requirements of the position. 
Mention your interest: When composing follow-up thank you notes after job interviews, the opening paragraph of your letter is also a good opportunity to express and/or reconfirm your interest in the position. (Keep in mind that if interviewers are choosing between two candidates, enthusiasm could sway their decision.) 
Make a case for your candidacy: While courtesy is the biggest reason for your thank you note, the letter is also an opportunity to ​remind interviewers why you are a strong candidate.  Use the body of the email to reiterate your relevant skills and experience. Callbacks to the conversation are helpful here. Ideally, your thank you note will feel specific to the position at hand, and not generic.
Reiterate your thank you: Close out your letter by thanking the recipient once again.